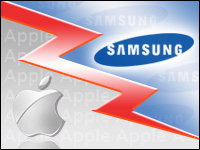 The Obama administration has upheld a ban won by Apple earlier this year that requires Samsung Electronics to stop importing certain smartphones and tablets into the U.S.
U.S. Trade Representative Michael Froman made the announcement on Tuesday morning.
"After carefully weighing policy considerations, including the impact on consumers and competition, advice from agencies, and information from interested parties, I have decided to allow the Commission's determination in Certain Electronic Digital Media Devices and Components Thereof, Investigation No. 337-TA-796, to become final," Froman said in a statement provided to the E-Commerce Times by ITC spokesperson Carol Guthrie.
The decision dates back to an August 2013 determination by the International Trade Court that Samsung had infringed two patents owned by Apple, and so should not be able to import certain products that use these patents. Specifically, two older versions of the Galaxy smartphone and Galaxy tablet were the products affected.
Per the process, the Office of the U.S. Trade Representative reviewed that determination to see if it should be overturned on policy grounds. Froman also noted in his statement that "ensuring adequate and effective protection of intellectual property rights, including enforcement of such rights at the U.S. border through exclusion orders under section 337, is an important national interest."
Not Business as Usual
This determination is not quite business as usual for the USTR, however, in that it follows an August decision to overturn a similar ban put in place by the ITC against Samsung's main competitor: Apple.
The ITC had determined that certain older Apple products infringed on certain Samsung patents and duly banned those products for importation. One week before the ban was set to go into effect, the administration overturned it.
In that case, Froman said he was vetoing the import ban for several reasons, including "technical policy considerations" and their "effect on competitive conditions in the U.S. economy and the effect on U.S. consumers."
The last time the president overturned an ITC decision before that was in 1987.
It was an eyebrow-raising decision, in short. Apple, after all, is a U.S. company, and its products are immensely popular with consumers. Also, according to some viewpoints, the decision was suspect because many of Apple executives are supporters of the Obama administration.
"These were definitely factors seized upon by Samsung and foreign trade interests," David Johnson, principal of Strategic Vision, told the E-Commerce Times.
Samsung raised other issues during the investigation as well, Froman noted. For instance, it was concerned that issues could arise with U.S. Customs and Border Protection's interpretation and enforcement of the resulting exclusion order.
"The Office of the Intellectual Property Enforcement Coordinator is conducting an interagency review aimed at strengthening the procedures and practices used during the enforcement of USITC exclusion orders," was Froman's response.
The Home Court Advantage
The perception is clear that Obama is favoring the home court advantage with these series of decisions, Peter Toren, partner with Weisbrod Matteis & Copley, told the E-Commerce Times.
"I know the ITC can point to technical reasons why it made this decision, but it is hard for critics, especially foreign-based companies, to look past that," he said.
Obama could come out ahead with certain U.S. constituents — such as the tech community — with this ruling, Johnson suggested: "During an uncertain economy, he will be seen as bolstering a U.S. company and taking a stand against a foreign one."
That said, the negative fallout for Samsung is likely to be limited. For one thing, the products in question are older models, Toren pointed out.
"A lot of these products have a short life span with consumers always looking to buy the next new thing," he explained. "This decision is not going to make a difference one way or another in the larger fight between Apple and Samsung over global marketshare."