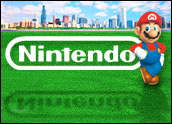 Nintendo reported a loss that was less than expected Wednesday, as video game hardware sales continue to decline.
It posted a net loss of 17.23 billion yen, or about US$220 million, compared to losses of 25.5 billion yen a year ago.
Sales of the Wii gaming consoles were one of the Super Mario creator's weakest spots. The company sold 710,000 machines, compared with 1.56 million during the same period a year earlier. It sold 540,000 DS handheld consoles, down from the 1.44 million it sold a year ago.
Nintendo sold what it termed "only" 1.86 million 3DS consoles, the handset that gives users 3D views without having to wear glasses. That's more than double the 710,000 the company sold a year before, but Nintendo has slashed the price of the product to spur weak demand.
Because of those cuts, hardware sales for the product were not profitable, but the company promised that was improving.
Nintendo was hopeful new software titles such as "New Super Mario Bros. 2" would help sales.
The strong appreciation of the yen during the past year inflated some of its losses, Nintendo said.
The company did not respond to our request to comment for this story.
Competition on All Fronts
Many factors contributed to the sluggish sales for the Wii console. In addition to the Wii nearing the end of its product cycle, the device continues to face competition from more powerful gaming machines such as Microsoft's Xbox 360 and Sony's PlayStation.
Another threat is rising from mobile devices. As smartphones and tablets become more powerful and come equipped with stellar graphics, mainstream gamers are turning to their iPads or phones to play games.
"Tablets and smartphones are clearly cannibalizing the casual gamer market, which is the core target of the Wii," Jia Wu, senior analyst at Strategy Analytics, told the E-Commerce Times.
Still, there is room for both traditional consoles and newer devices such as iPads and smartphones, said Michael Inouye, senior analyst at ABI Research — the key is finding out how the two can co-exist.
"Mobile devices will compete with dedicated handheld gaming devices, but select consumer segments like core gamers and those individuals who do not want or have a smartphone or tablet will still provide some demand," he said. "The addition of mobile gaming is not necessarily a zero sum situation. In fact, many feel there is plenty of room in the gaming market for both portable and mobile gaming."
Banking on Wii U
Nintendo is hoping that its new Wii U is the ticket to regaining its footing in the console market. The device, which is supposed to hit shelves in time for the holiday shopping rush, will be its first new home console since 2006. It will feature a touchscreen controller and high-definition graphics. But counting on the Wii U to deliver for the company might not be a safe bet, said Wu, given the shifting gaming market.
"The competitive environment has changed tremendously," he said. "Tablets, smartphones and even possibly some Android-based gaming devices will lure away casual gamers, while Microsoft and Sony both have made significant progress in broadening their target audience and concentrating on the core gamer market. Both Xbox and PlayStation have already deployed their responses to the multiscreen advantage of the Wii U."
Nintendo has advantages over those competitors that it should focus on in addition to making sure Wii U is a hit, said Wu. The company remains strong in its home country, Japan. In addition, if the 3DS can start turning a profit with the help of software content from Nintendo, sales and demand for the product should bring better results going forward, he said.
"The most important thing for Nintendo is to release compelling gaming content for the Wii U and 3DS, which consumers can't find on other platforms," suggested Wu, "given software has always been the most lucrative part of the gaming business."