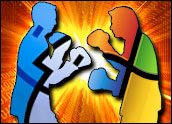 Even if you were to limit yourself to the iMac product line — as opposed to the heavy artillery computer graphics workstation, the Mac Pro — you could easily spend US$1,600 to $3,200 for a souped-up machine. Mac addicts will tell you the price is worth it. What about everyone else, though? The price is steep, but the Apple brand — strongly tied to the sex appeal and simply beautiful design of the Mac — has enticed more than one casual buyer to spurn utilitarian Windows-based PCs.
Now, Microsoft has launched an ad campaign to get those consumers to refocus on what that Mac actually delivers for the US$500 to $1,000 higher price tag. Microsoft's latest ad features an average shopper, Lauren, who is on a quest to find a 17-inch screen laptop for $1,000 — preferably even less, since she gets to keep the change. Lauren walks out of an Apple retail store empty-handed, and as she drives off murmurs, "I guess I'm not cool enough to be a Mac person."
The ad ends with Lauren squealing happily outside a Big Box electronics store: She has found an HP Windows laptop that fits the bill for just $699.
Pity the Fool?
You almost have to pity Microsoft as you review its history of advertising campaigns, suggests Rob Frankel, author of The Revenge of Brand X.
Its Seinfeld, Vista and Windows 7 advertising efforts were expensive failures, and so were previous shots at Apple, he told the E-Commerce Times.
This particular ad campaign is an opportunistic play because of the recession, said Frankel.
Once again, Microsoft is being short-sighted, he contended — and misguided as well. The "I'm a PC" ads tacitly acknowledge Apple's recognized value versus PCs.
This image will outlast the recession, Frankel predicted, with PCs appearing to be the "low end" choice long after the recovery.
Recession, Depression?
Recovery is far away, though — and this is no ordinary downturn. Consumers have dug in, refusing to spend on unnecessary items. Spending on essential items — and, for many, a computer fall in this category — is kept to a minimum.
That is why this campaign should resonate, William M. Collins, principal of Travers Collins & Co., told the E-Commerce Times. "We're officially now in an era of frugality, and Microsoft is playing it perfectly."
Mac sales are going to be falling with or without these Microsoft ads, because they're expensive toys in a down economy, said Josh Barsch, CEO of StraightForward Media, a search engine advertising agency.
"The ads can't hurt, and I don't know what took Microsoft so long," he told the E-Commerce Times. "The biggest chink in Apple's armor has always been its price tag. In flush times, the young and hip can afford to shell out more for a trendy machine. When they no longer have jobs and can't pay their rent, it's a different story."
Other Considerations
For some consumers, purchasing a computer is like buying a car: There are a number of factors besides price that go into the decision-making process. That's what kept Apple flush before the recession — and that dynamic could be enough to sustain it during hard times.
"When you buy a Mac, you are buying the lifestyle," said Sunny Bonnell, cofounder and creative director of Motto, a branding and interactive design firm that uses Macs.
"When you buy a PC, you're just buying another indistinguishable PC," she told the E-Commerce Times.
That is why competing on price alone is not a winning strategy or a competitive advantage," Bonnell continued. "The decision to run such ads, in my opinion, shows weakness and poor leadership on behalf of Windows. The message that Windows is sending is purely defensive and shows the direness of a company trying to keep up. People always want status, and Apple is a status product."