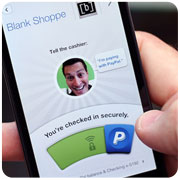 PayPal introduced a new version of its mobile app on Thursday, unveiling features designed to make it easier for users to pay restaurant bills or take advantage of location-based deals while on the go.
The updated app lets users access full menus from approved restaurants and order ahead of time to cut down on wait times. At launch, that feature was available at about 1,000 Eat24 restaurants, with more to come.
Diners can use the app to check in to participating restaurants and view a bill, or even pay and tip, rather than having to wait for a server to run a card. It even makes it unnecessary to carry a card.
The Shop tab on the app allows users scan the area for nearby deals, check into a store via the app, purchase something, and receive a receipt for the purchase via email. PayPal said about US$100 in special shopping offers are available within the app and can be redeemed automatically at mobile checkout.
To make payments, PayPal users can access their stored accounts. They also have the option to pay with a line of credit using PayPal's Bill Me Later option.
The app is available now for iPhone and Android smartphones in nearly 125 worldwide markets.
PayPal did not respond to our request for further details.
No Cash, No Cards
PayPal's new mobile app offerings are part of a larger industry initiative to make the idea of paying without cash or a credit card more appealing to the mainstream consumer, said Sandy Shen, research director for consumer services at Gartner.
The company may not be the first to let customers pay via an app, but its incentives –such as skipping ahead in line or getting special deals — are helping to make the mobile wallet more compelling.
"On an individual basis, none of the features are new to the market, but the combination of those increase the value of the offering," Shen told the E-Commerce Times.
PayPal is smart to appeal to both consumers and vendors with its new offerings, said Shen. Too often, quality mobile payment options don't catch on because they are available only with a very specific — and often unpopular — smartphone, or because retailers haven't added the ability to use the mobile wallet option at their registers.
"The PayPal wallet app works on iOS and Android devices, regardless of the brand or device technology, and that should cover a majority of the smartphone user base today," she added. "Also, it doesn't require major investment in point of sale equipment to accept the payment — only a software upgrade — so that's another plus."
Baby Steps Toward Mobile Wallets
The PayPal app still has its limitations, though, Shen noted. Not everyone has a PayPal account, and it would help the company to expand the number of retailers that accept it.
In addition, it is going to take more than a few new features from PayPal — or any single company — to drive growth in the space, said Gerry Purdy, principal analyst at MobileTrax and GigaOM Pro. Still, the initiatives have to start somewhere, and PayPal is a natural choice.
"Carriers are going to play a major role in mobile payments because they can offer payments through the subscriber's cellphone bill," he told the E-Commerce Times, "but, major brands like this are pulling together mobile payment programs as well."
If PayPal continues to add retailers and mobile app users, it can be one of the leaders in mobile payment adoption, Shen added.
"It takes an industry effort to create compelling value for consumers and merchants, to address the various use cases, and make it convenient to use online and offline," she said. "This is an ongoing effort to continuously improve the mobile wallet experience to make it more attractive for customers and merchants."