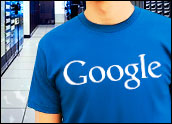 Google is altering its algorithms to disfavor websites that are frequently accused of carrying content that violates copyright regulations.
The search engine will include a new search signal in its rankings. Starting this week, its algorithms will include the number of copyright removal notices that Google receives. Sites that have multiple notices could appear lower in search results.
Over the past two years, Google has received and processed a growing number notices regarding allegedly pirated material. It processed more than 4.3 million URLs regarding removal notices in the last 30 days alone, more than it did in all of 2009.
Google does not intend to sniff out copyright offenders on its own, it said, and will only push sites if it receives a valid removal notice from a rights owner. Google will also have a system in place for companies that believe their content was wrongfully penalized.
The company did not respond to our request for further details.
Making Concessions for Content
Big players in the entertainment industry have applauded Google's decision. Support from Hollywood is now a big concern for Google, said entertainment lawyer Gordon P. Firemark.
"I think it's more of a move to appease the big content makers and distributors than it is a potential statement on legislation," Firemark told the E-Commerce Times. "The bottom line is that Google benefits a lot from improving their algorithms in whatever way they decide make sense, and if they open it up and say to the world that they promote legally obtained content and demote anything that is illegitimate, it gives more credibility with big businesses."
Once a company focused solely on search, Google's business horizons have widened considerably lately. That credibility with big businesses could go a long way if the company hopes to obtain more content for its Google Play digital content store for its Android devices, said John Bergmayer, senior staff attorney at Public Knowledge.
"Google now wants to sell music and movies, and they need relationships with distributors to do that," he told the E-Commerce Times. "They're a much more diverse company than they were before, and they need to make friends. Before, they had more of a purist approach about what was best for search and the Internet, but now they're more than just an Internet company."
Not SOPA/PIPA Yet
However, Google's move doesn't necessarily equate to the legislation several lawmakers vied for several months ago with the Stop Online Piracy Act (SOPA) and Protect IP Act (PIPA).
Despite enjoyiung the support of major Hollywood labels, Internet giants such as Wikipedia and Google led consumer protests, and those bills failed to gain traction. An action from Google that isn't prompted by Washington could be a better way to crack down on illegal content without springing massive consumer protest, said Bergmayer.
"Private companies like Google are free to do this," said Bergmayer. "There might be some criticism, but it's not the same as if the government were getting involved. Maybe, if this goes poorly for Google, then Bing knows not to go down that road. Consequences are a lot better to have with private actors than with a government solution."
Still, the decision could have unintended consequences, he said.
"Given this is a change to search algorithms, we have no way of knowing what kind of consequences it could have," said Bergmayer. "We just have to wait. Our concerns are that, as with everything regarding search rankings, there will be people that will try to game the system. There are possible bad consequences to a move like this, but it seems like Google is taking steps to limit those consequences, so we'll have to see."