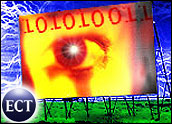 Some of the biggest names in technology — including Amazon, Google and Yahoo! — share something in common: At least at first, they grew to become household names with little, if any, help from traditional advertising.
Only recently have most of these well-known companies ventured into television, radio or mass-media print advertising. Instead, they used word-of-mouth, publicity and other relatively low-cost approaches. Sure, they had the benefit of surfing the high-tech boom wave, but experts say that in a slower economy, with advertising budgets crimped, guerrilla marketing approaches are even more important.
So, how can companies follow in the stealthy footsteps of early e-commerce giants?
Take It to the Streets
Guerrilla marketing techniques were once thought to be effective only for new companies and products, but established companies have found them useful as well. When AT&T prepared to launch its mLife campaign, it used a series of cryptic radio and TV spots to build interest before a Super Bowl ad explained what it all meant. During the run-up, even an mLife Web site did not offer many answers — including which company was running the campaign.
AT&T spokesperson Mark Siegel told the E-Commerce Times that the campaign had the desired impact of helping remind people of the benefits of mobile communication.
"It was a fresh spin on an existing product, and we needed to use a different approach as well," he said, noting that the mystery was the focus of hundreds of media stories and weeks of online speculation, adding to the power of the message.
Do You, uh, Blog?
One technique that was not available to publicity seekers and brand builders five years ago but now is seen as a way to influence the public is Weblogs, or "blogs" for short.
These self-published Web diaries are creeping into the public eye as legitimate, if quirky, sources of news and information. By influencing blog publishers, a company can relay its message to the public and pick up some credibility along the way, according to Denise Garcia, a research director focused on online marketing at Gartner.
"The best campaigns, whether it's e-mail or advertising or something more subversive, all rely on context to get their message across more effectively," Garcia told the E-Commerce Times. "A consumer's perception of a product message is directly impacted by where they're getting it from."
Raging Campaigns
One high-profile blog-marketing experiment is already under way. Richards Interactive is overseeing a campaign for the makers of Dr Pepper that uses the medium to create buzz for its Raging Cow flavored milk drinks.
The campaign tapped bloggers in the teen demographic, who were offered gift certificates to Amazon.com and other incentives in exchange for trying the product and writing about it online. The agency also created a Weblog written from the point of view of the cow-mascot for the product.
Gartner's Garcia said the same principle could apply to any product and demographic, including high-tech products aimed at C-level executives. The market and message would be much different, but the principle would hold.
The desire to put commercial messages in context is also driving search engine advertising to new heights, she added. "If it's in a relevant place, a message has a much better chance of being received."
Puzzle Pieces
Jere King, vice president of worldwide marketing communications at Cisco Systems, which recently launched its first-ever TV ad campaign, told the E-Commerce Times that whatever the medium or technique, a marketing message must be integrated across channels.
"You want to present a cohesive message, but not the same message," King said. "You want your target consumer to learn more every time they come across your brand in an advertising medium."
For Cisco and other makers of hardware and software, true guerrilla tactics probably are not as effective as traditional ones, given that the company relies on its reputation for trustworthiness. In other words, Ask Jeeves' effort to create a recognizable brand by launching a campaign with a balloon in the Macy's Thanksgiving parade might not translate for a network hardware maker.
"The message and the medium can't always be separated out," King added. "You want to go where your customers are and make a good impression, since it might be a first impression and it is almost certain to last."
Push, Pull and Pop
Meanwhile, the technology of the Web itself has become a battleground for guerrilla marketers, especially as a way of making preemptive strikes against rivals.
Last year, for example, online travel site Orbitz tested a marketing campaign with users of the Comet System online navigation tool. That experiment presented Comet users with Orbitz fares and pricing information whenever they clicked on competitor sites, such as Expedia and Travelocity.
EBay's Half.com tried a similar experiment, asking shoppers to download a tool that would pop up Half.com prices on items when users searched for those items at another companys Web store.
But those types of technological tricks could backfire, and most experiments have failed to catch on so far.
"The online consumer does not want to feel duped in any way," Garcia said. "The backlash against pop-up ads should be a warning to companies to handle in-your-face technology with care."