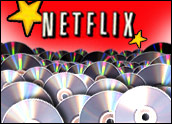 Wal-Mart and Netflix have struck an agreement that calls for the retail giant to bow out of the online DVD rental business, a potentially huge victory for Netflix, but one that might only forestall the inevitable decline of the rental business amid the rise of video-on-demand.
Under the agreement, Netflix will promote DVD sales at Wal-Mart. In exchange, the retail giant will end its less than 2-year-old online DVD rental experiment, suggest customers sign up for Netflix and promote its onetime rival as the preferred online rental alternative. Netflix will also take over Wal-Mart's current subscription service, keeping the current US$12.97 per month price for a year.
Wal-Mart said the move was a reflection of the fact that DVD sales are rapidly becoming a more important sector for it. The company did not disclose its subscription numbers, but analysts estimate it at around 300,000.
Core Business
Investors saw Netflix, which has about 1.3 million subscribers and is the clear category leader, as the big winner in the deal, sending the firm's shares higher by more than 14 percent to US$17.22 in midday trading today, just after the news was disclosed.
Since its core business is online DVD rentals — customers get and return movies by mail — Netflix might have been the company most threatened by Wal-Mart's push into the sector. Because of its size, buying power and agreements with movie distributors, Wal-Mart could have put significant pricing pressure on Netflix over time, analysts said.
"We've experienced tremendous growth in our online movie sales, and are committed to enhancing our focus in this business," John Fleming, the CEO of WalMart.com, said. Netflix CEO Reed Hastings said the partnership would help extend Netflix' lead as the top online DVD rental destination. Terms of the deal were not disclosed.
Blockbuster Buster?
In the short term, the alliance seems to create a spear aimed directly at Blockbuster. The brick-and-mortar movie rental giant now has its own online subscription-style rental offering, seen by many as a direct response to the rise of Netflix. That service reportedly has around 750,000 members today, making it the second largest such site behind Netflix.
Blockbuster's ill-fated attempt to acquire Hollywood Video was likewise seen by many as a defensive move, a way to bulk up and use size and pricing power to thwart Netflix' insurgence. The rental company now finds itself in a battle over leadership, with a recent board meeting reportedly considering a range of options, including the idea of getting out of the online rental business to focus on DVD sales.
Analysts say a survey of the potential reactions in the competitive landscape should also include Amazon.com. Late last year, Amazon launched a DVD rental service on its UK site, and it is widely believed the e-tailer is using that service to work out the bugs for a possible foray into the U.S. market.
Netflix has even warned its investors that such a move was on the way from Amazon.
Amazon's director of product public relations, Jani Baker, told the E-Commerce Times recently that the business is one that Amazon is "well-positioned to do," in part because movie sales have long been a part of its business and because it has a massive base of customers that would make it unnecessary to invest heavily in promotion.
Video-on-Demand
To date, many consumers still prefer the instant gratification of a trip to the movie store over the online subscription model, in which movies are sent out when an earlier rental title is returned. Blockbuster's recent moves to eliminate some late fees have been seen aiding store rentals as well.
However, all that might change, with the current activity just a preview of the sea changes — some might say even a tidal wave — to come to the industry as video-on-demand continues to gain favor with both consumers and distributors.
Digital downloads combine the convenience of getting movies immediately, and, because they cut out several intermediate steps — the production and distribution of DVDs, for instance — could be served up at a lower cost, at least while customers are getting used to the idea.
In the Game
While serving up digital copies of movies over the Internet has gained traction among customers, the big hurdle might be in convincing studios and others who own the intellectual property behind the films to sign on to widespread use of Web sales.
However, there are already signs that's starting to change. Sony Pictures Digital Entertainment recently laid out plans to spread technology that would enable the legal downloading of full-length feature films while also protecting against illegal swapping or piracy.
Phil Leigh, senior analyst at Inside Digital Media, told the E-Commerce Times that the movie industry has the opportunity to avoid the pitfalls that the music business fell into by ignoring the digital medium for too long.
"The best way for the industry to meet the challenge is to offer a viable legal alternative before piracy becomes mainstream," Leigh said.
How to do that is another question, however, and any viable system will need to balance digital rights management with ease-of-use for consumers. "The devil will be in the details," he added.
Many analysts believe trusted partners such as Netflix, which has a history of effectively getting movies into consumer hands, will likely be a key part of the digital distribution strategy as it emerges.
Broadband Delivery
Netflix has made it clear it intends to be a player in the video-on-demand world, and recent published reports have suggested the Web site could unveil a test of such a service as soon as later this year.
Netflix has long been something of an apple of the e-commerce sector's eye, in part because of the pure-play nature of the business model, which marries Web efficiencies with traditional postal delivery services, and in part because it managed to go public in early 2002, at a time when dot-com IPOs were more likely to be the punch-line of jokes than the object of investor attention.
However, even from its early days, analysts have wondered about the long-term viability of its business model given the potential for broadband delivery of movies to set the industry on its ear.