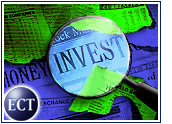 DVD rental site Netflix.com is hoping a rejuvenated stock market can breathe life back into its long-shelved initial public offering.
Netflix filed with the U.S. Securities and Exchange Commission for permission to raise up to US$115 million through the offering. No date has been set.
The company, which launched in April of 1998, became the second dot-com to hop on the IPO bandwagon this week. On Tuesday, discount e-tailer Overstock.com announced its intention to go public and raise as much as $37 million in the process.
IPO-a-Go-Go?
But Morningstar.com IPO analyst George Nichols told the E-Commerce Times it is too early to declare the dot-com pipeline open for business.
Even with at least one more highly anticipated Internet offering waiting in the wings, from search engine Google, investors remain skeptical of pure-plays, Nichols said.
"The IPO pipeline is starting to show a pickup, but it's generally from spin-offs from established companies," he noted.
Paypal, which successfully began trading on the Nasdaq exchange late last month, was a special case, he added.
Try, Try Again
This will be Netflix' second attempt to go public. The firm first filed in April 2000, just as the Nasdaq began what would turn out to be an historic free-fall. Netflix formally withdrew its offering in July of that year.
In the interim, the company's business has seen rapid growth, with annual revenue increasing from $5 million in 1999 to $35 million in 2000 and to $75 million last year.
Netflix has yet to turn a profit, though it did cut its losses substantially, from $57 million in 2000 to $38 million last year. It also is running short of cash, and said in its filing that it has just $16 million on hand. The company said it will use part of its IPO proceeds to repay about $13 million in debt.
Growing Membership
Netflix noted it now has 500,000 members, each of whom pays a monthly fee to receive unlimited DVD rentals.
Depending on the level of service chosen, customers receive from two to eight movies at a time, returning them through postage-paid mailers. When each movie is returned, Netflix sends out the next film on the customer's list. Membership fees start at $13.95 for two movies.
In its filing, Netflix cited research showing that U.S. consumers spent more than $32 billion on DVD and video rentals in 2001. The company also asserted that the industry is "undergoing a rapid technology transition away from VHS to DVD."
The filing quoted the Consumer Electronics Association, which called the DVD player "the fastest-selling consumer electronics device in history," citing a doubling of the number of players in U.S. homes during 2001 alone.
Risks Aplenty
But Netflix acknowledged that even with rapid consumer adoption of DVDs, it faces a number of potential unknowns going forward. For instance, because it uses the U.S. Postal Service to deliver DVDs, it is susceptible to both price increases and a loss of consumer confidence in the mail delivery system.
Netflix also warned of increased competition from studio-backed video-on-demand services, including Disney-backed Movies.com, which was formed last fall.
Another risk factor: throwaway DVDs.
"We are currently aware that certain entities are attempting to develop disposable DVDs. As currently contemplated, disposable DVDs would allow a consumer to view a DVD for an unlimited number of times," the Netflix filing noted.