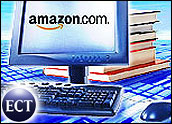 In what might be an overseas preview of a battle coming soon to U.S. soil with market leader Netflix, Amazon.com has launched a DVD rental service through its United Kingdom Web site.
Amazon's UK site began advertising the DVD rental option this week, as the site sees heavy holiday traffic. The service will offer customers up to four rentals per month, and up to two at a time, for a flat fee equivalent to about US$15.50.
That approach is a switch from what Netflix and other companies offer, with comparable monthly fees giving customers access to an unlimited number of rentals. Subscribers to the rental service will also be able to get 10 percent discounts when they buy DVD movies.
Analysts said the UK foray for Amazon might be a place to test its approach and streamline the logistically difficult process of handling DVDs through the mail. The type of alliances with distributors and other mechanisms that Amazon needs to operate the UK rental business might also be applicable in the U.S.
Amazon shares were up more than a dollar, or nearly 3 percent on the news, to $39.84.
Preparing for Battle
In the U.S., NetFlix has already said it expects Amazon to launch a similar site before long and is hoping that its nearly five-year presence in the marketplace already and its subscriber base of more than 2.2 million people will help it fend off its much larger rival.
Netflix CEO Reed Hastings took the unusual step of announcing during his company's conference call recently that Amazon had begun to assemble the infrastructure for a rental business.
Around the same time, Netflix cut its prices, hoping to solidify its market share against forays from Amazon and also from Blockbuster and Wal-mart, which have begun to test their own by-mail rental service.
A Good Fit
Jani Baker, director of product public relations at Amazon, said DVD rentals are a business that Amazon is well-positioned to take on for a number of reasons, including the large number of users who visit Amazon to search for movies and read reviews through the Web site and the Internet Movie Database, which Amazon owns, as well as targeted recommendations that it uses across products lines.
"DVD rentals is a business that Amazon is well-positioned to do," she said. "We can afford to offer low prices in a sustainable way because our customer acquisition costs can be low to none."
Baker emphasized that Amazon is not announcing anything with regard to the U.S. market. "However, our customers have been asking us for the service and we believe we're well-positioned to offer a great customer experience," she said, adding: "Stay tuned."
Amazon's business has changed dramatically over time, and earlier this fall the site said sales of electronics had outpaced book sales for the first time since the company was founded.
Movies Buffs Aplenty
For its part, Netflix lost its sheen in the eyes of many investors as it faced increasing competition from the likes of Blockbuster and also because some analysts believe the long-range prospects for the company are questionable given the rise of on-demand video services from cable companies and other broadband providers.
Hoping to be a part of the next technological evolution, Netflix recently announced it would form a movie-download business next year through a partnership with TiVo. Netflix had planned to launch in the UK already, but postponed that move in order to focus on building its U.S. business.
However, some analysts have been skeptical that Netflix can withstand its competitors, who have either diverse revenue streams, as in the case of Amazon, or established customer bases, like Blockbuster does. Blockbuster has already indicated a willingness to enter a price war with Netflix, lowering its monthly fees just a day after Netflix cut its prices.
Internet analyst Barry Parr said Netflix has left itself open to competition by not focusing enough on customer features on its Web site, which he describes as one of the worst among all major e-commerce companies.
For instance, searches by director are not possible on the site. Entering a director's name into the search box returns movies with that person's name as the title.
By comparison, Amazon's search functions, customer ratings and specific recommendations will meld well with DVD rentals. "Amazon will be able to bring a lot more to the table on the customer side," Parr said.