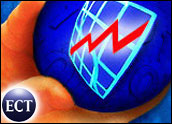 Providing more evidence that the IPO market for Internet offerings is slowly reviving, debuting DVD rental site Netflix sold 5.5 million shares of its common stock at the top of its price range.
The shares were slated to hit the market at US$15 each Thursday after final pricing late Wednesday at the top of the company's $13 to $15 range. Netflix stock, which has beengiven the symbol "NFLX," began trading on the Nasdaq by midday Thursday and was up about 13 percent to $16.90.
The Los Gatos, California-based company, which had initially tried to go public in 2000, raised $82.5 million in the offering. Merrill Lynch was the lead underwriter.
A Mini Blitz
In addition to being the second pure-play Internet offering this year after PayPal, which continues to trade at more than double its $12 offering price, the Netflix IPO comes as Overstock.com prepares to hit the market, possibly as soon as next week.
Also, airline-backed travel giant Orbitz last week announced its intention to move forward with a $125 million offering of its own.
"I think [Netflix is] not nearly as promising as PayPal but should still find plenty of buyers," Morningstar.com IPO analyst George Nichols told the E-Commerce Times. Netflix "enjoys explosive revenue growth and is displaying good cost control," he added.
Right Direction
Indeed, Netflix has the type of revenue-growth trajectory that investors love. The company reported revenue of just over $5 million in 1999, but that number grew to $35 million in 2000 and more than doubled to reach $75.9 million in 2001.
In the first three months of 2002, Netflix recorded revenue of $30 million. It also brought its losses under control, posting a net loss of just over $4 million for the January through March time frame, compared with a loss of $20.5 million in the first quarter of 2001.
The capital raised in the offering will enable four-year-old Netflix to step up marketing efforts for its monthly DVD rental program, which has attracted more than 600,000 members to date.
Video Store Alternative
Netflix positions its service as a low-cost and convenient alternative to renting DVDs from the neighborhood video store.
For a $20 monthly fee, Netflix subscribers can receive an unlimited number of movies per month, keeping up to three at a time. The company mails movies to customers, who then return them in a prepaid envelope. Once a movie is returned, the next film on a customer's list is immediately shipped.
Possible Hurdles
Netflix' prospectus noted that it faces a number of unknown competitive forces, including emerging technologies such as video-on-demand over cable and Internet services.
According to Nichols, "I think this business model will eventually become profitable. But success attracts competition. Blockbuster and others are increasing their focus on this market."
Over the long term, however, video-on-demand also may up the ante. "It'll be a major threat in another decade," said Nichols.
The company's prospectus also noted that Netflix' business model depends on access to low-cost mailing services through the United States Postal Service and that disruption in mail flow could harm its business.