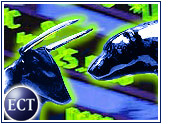 Discount e-tailer Overstock.com, which filed for an IPO shortly after PayPal made its own splash in the stock market, has begun accepting bids for an open public offering.
In a filing with the U.S. Securities and Exchange Commission (SEC), Salt Lake City, Utah-based Overstock said it has upped the number of shares it plans to offer to 3 million. The company also set a target price range of US$14 to $16.
If its shares are priced at the top of that range, Overstock could raise $48 million through the offering. It plans to use that capital to cover operating expenses and repay debt, including a $3 million loan from CEO Patrick Byrne.
Plenty of Questions
Investors will decide whether the IPO gets off the ground. According to the open IPO model that Overstock has chosen, shares are sold through a Dutch auction.
In fact, the price range Overstock cited is only a suggestion. Investors are free to bid whatever they wish for the company's shares. The highest qualifying bid will set the price for all investors, and those who bid above the qualifying price will receive their allotment of shares.
Meanwhile, questions remain about Overstock, which sells steeply discounted merchandise obtained from failed dot-coms and from retailers emptying their warehouses of unwanted goods.
Lost Appetite?
"I'm not sure how much appetite is out there for a money-losing dot-com, particularly in this market," Morningstar.com IPO analyst George Nichols told the E-Commerce Times. "PayPal was a special case."
During the first three months of 2002, Overstock had revenue of just over $10 million and lost about $3 million. The company booked $35 million in sales during all of 2001.
According to Overstock, 90 percent of its sales come from selling merchandise — which it buys outright from suppliers — directly to consumers and other businesses. The rest of the company's revenue comes from a relatively new commission-based business in which it sells items for third parties.
Competitors include RetailExchange.com and SmartBargains.com, both of which are backed by Gordon Brothers, a 100-year-old liquidation company.
Risky Business
The e-tailer acknowledged it faces many risks.
"We have a limited operating history, a history of significant losses, and we expect to encounter risks and uncertainties frequently faced by early stage companies in rapidly evolving markets," the company said in its updated SEC filing. "The online liquidation services market is new, rapidly evolving, intensely competitive and has relatively low barriers to entry, as new competitors can launch new Websites at relatively low cost."
Timing is another concern. The Nasdaq has tested new lows for 2002 in recent days.
"They may not be choosing the timing as much as being forced to decide when to go out," Nichols said. "Their growth rates have been unimpressive. Investors are likely to give Overstock a lukewarm reception at best."
Coattail Riding
In fact, Overstock has acknowledged that a $3 million loan will come due June 1st. Its current plans call for the IPO auction to close May 20th, with final pricing and an eventual stock market debut likely to occur no more than a few days later.
Overstock filed for its IPO in March, just days after PayPal debuted. That company's stock has impressed even skeptics, trading as high as $28 after debuting at $12.
Another dot-com, online DVD rental site Netflix, also filed to go public in the PayPal afterglow but has yet to advance its offering past the preliminary stages.