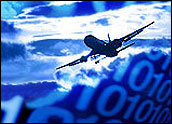 Less than a year after its controversial debut, travel site Orbitz has announced plans to raise as much as US$125 million through an initial public offering.
Orbitz informed the U.S. Securities and Exchange Commission (SEC) of its intention to go public in a filing Monday. Underwriters include Goldman Sachs, Legg Mason Wood Walker and Thomas Weisel Partners. Orbitz did not say how many shares it will sell or specify a price range.
The filing noted that since its launch last June, Orbitz has leapfrogged numerous competitors to become the third-largest travel site behind Expedia and Travelocity.
"This is an awfully fast IPO filing," Morningstar.com analyst David Kathman told the E-Commerce Times. "That's comparable to the speed with which Priceline had its IPO in 1999, but obviously the financial environment was very different then.
"Orbitz may be trying to strike while the iron is hot in online travel, raising money to beef itself up against its rivals before the airlines which own it reduce their support," Kathman added.
Outstanding Questions
The company's decision to pursue the IPO now may also indicate that it believes ongoing investigations into its business practices will not hurt it in the eyes of investors.
The only other e-commerce IPO to take place this year, PayPal, scored big despite a spate of lawsuits and regulatory proceedings that were revealed just before the stock began trading.
Orbitz' competitors have been crying foul since the company's formation more than two years ago. They complain that because Orbitz was founded by five major airlines — Continental, Delta, Northwest, American and United — it has unfair access to low-cost fares that other sites cannot offer.
"Regulatory issues are hanging over Orbitz," Kathman said. He noted, however, that one of the most vocal critics of the company, former Travelocity CEO Terry Jones, recently announced his retirement.
More Headaches
In its filing, Orbitz noted that in addition to ongoing investigations by the U.S. Department of Justice and the U.S. Department of Transportation, which is slated to report its findings to Congress this summer, "various" state attorneys general are reviewing the company's business practices.
The filing also revealed that a group of offline travel agents have filed a class-action lawsuit against the company and the five founding airlines.
"We expect that our competitors will continue to engage in lobbying and other activities, with the objective of generating negative publicity about Orbitz and pressing legislation or regulation that could be harmful to us," Orbitz said in its SEC documents. "These activities may result in significant distractions to our management, and could have a material adverse effect on our business, financial condition or results of operations."
Fast Track
On the other hand, investors who focus on the underlying financial data may find more to like.
Orbitz said it had revenue of $37.7 million in 2001 but lost $103 million, including costs associated with its launch and a massive marketing blitz. Almost all of that revenue was generated after June, when the site was launched and almost immediately swarmed by visitors.
For the first three months of 2002, Orbitz posted a loss of $8.9 million on $26.9 million in revenue.
"It looks like they've done a pretty good job of shrinking their losses over the past couple of quarters after the big marketing push last summer and then the disruption of September 11th," Kathman said.
The filing contains a potential clue regarding the timing of the IPO. Although Orbitz ended the first quarter with nearly $40 million in cash, the company noted that the airlines that founded the site have collectively sunk nearly $205 million into it to date and are unlikely to make additional investments.
Pipeline Clear
Orbitz' filing comes as two other e-commerce IPOs inch toward their Wall Street debuts. Overstock.com is about halfway through the bidding process for its "Open IPO," through which it hopes to raise as much as $42 million.
In addition, DVD rental site Netflix is set to price its $77 million traditional offering as early as this week.
Morningstar.com IPO analyst George Nichols told the E-Commerce Times that higher-quality offerings are moving forward as long delays cause other companies to move aside.
"The IPO market is gradually warming up," Nichols said. "The excessively big pipeline has been cleared out by many withdrawals and postponements over the past year. Investors are beginning to test out the IPO waters again."