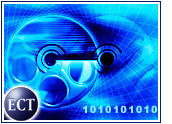 It was the kind of day a relatively young, publicly traded dot-com dreams about when it's just a startup daring to dream. Netflix had come out the night before and said that instead of posting an expected quarterly loss, it would turn in a strong profit, its first ever.
After-hours traders had bumped Netflix shares up 6 percent, and the people at the DVD-rental site probably had high hopes that loving feeling would continue all day.
Then Wal-Mart got up — and it decided to have Netflix for breakfast.
Poorly Kept Secret
Just when Netflix was hoping to bask in the afterglow of its profit revelation, Wal-Mart underpriced it by about a buck — probably not enough to convince a Netflix customer to switch to Wal-Mart's service, but maybe enough to make a potential customer of Netflix think twice.
The timing was either impeccable or dastardly, depending on your point of view. Netflix probably thought of its earnings pre-announcement as a coming-out party of sorts.
Even through its against-the-odds IPO, Netflix hasn't been the splashiest dot-com. It's kept a low profile, probably gaining as many new customers through word-of-mouth as any other method. But with well over a million customers and growing top and bottom lines on its balance sheet, Netflix may have thought it was time to go ahead and start telling its dot-com success story.
Wal-Mart has different ideas, of course. It also has a trial movies-by-mail system running and decided to step it up a notch, as it were. For Wal-Mart, nothing beats lower prices, which in this case meant taking aim at Netflix' most price-conscious customers and potential customers.
No Worries
The folks at Netflix aren't pushing the panic button, and they shouldn't. They have a customer base that may prove loyal. They appear eager to make it clear that renting DVDs is all they do, so they can beat the big guy, who has price on his side, in terms of service and selection. They launched Netflix First the other day, promising exclusive movie titles, and said they had a partnership to roll out never-before-available documentaries.
That's a nice idea, and one that will no doubt resonate with the true film buffs in the Netflix audience, the first-movers who are as likely to want to rent DVDs from Wal-Mart as a hardcore Internet user is to want to get Internet service from AOL.
Hope and History
But that still leaves the vast majority of the buying public exposed, and it frankly begs the question of what Netflix will become. Has Wal-Mart blocked the company's path to a flashover from small but profitable company to DVD rental standard, one that can genuinely make Blockbuster shake in its shoes? Will Netflix be relegated to niche status?
It's hard to tell at this point, but if Wal-Mart wants to, it can make life hard for just about anyone. Netflix deserves a better fate — it pulled off a dot-com IPO when conventional wisdom said it couldn't be done and reached profitability faster than anyone predicted. Some analysts are sticking by the company, saying its user base is safe from the superstores of the world. I hope they're right. But history makes hoping for a blockbuster future for Netflix a hard thing to do.
---
Note:
The opinions expressed by our columnists are their own and do not necessarily reflect the views of the E-Commerce Times or its management.
---