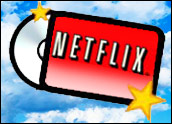 Netflix beat expectations with third-quarter revenue of US$1.11 billion, or 52 cents per share — up from the $905 million it reported in the same quarter a year ago.
At first, investors seemed energized by Netflix's earnings and positive outlook — they sent the stock soaring more than 11 percent in after-hours trading. Shares hit a daily high of $389.16 on Tuesday. It was another boost for a company that has already been one of the year's top performers — up about 280 percent in 2013.
Going into Tuesday afternoon, though, the stock cooled, dropping 9 percent to close at 322.52. The reversal came after Bank of America analysts said the company's valuation was "difficult to justify."
CEO Reed Hastings warned of market "euphoria" in a letter to shareholders Monday, noting that even though Netflix was the highest-performing stock on Nasdaq 10 years ago, there have been significant swings in stock price since then. The company tries to focus on subscriber growth rather than market volatility, Hastings added.
Its solid quarter was thanks largely to significant subscriber growth. The company added 1.3 million domestic subscribers during the quarter, compared with 630,000 in the second quarter.
Netflix's international expansion efforts also seem to be paying off. It added 1.4 million global subscribers, bringing its total worldwide customer base to more than 40 million, up from fewer than 30 million a year ago.
Creating New Shows
Netflix pointed to its original content as a way of attracting new users to the streaming service. It has received critical acclaim for its original series, earning 14 Emmy nominations for House of Cards, Hemlock Grove and the reboot of Arrested Development.David Fincher took home the first Emmy awarded for an online-only show, claiming best directing in a drama series for House of Cards.
Orange is the New Black, based in a women's prison, is on track to be its most watched series yet, Netflix said Monday. The company doesn't release viewership numbers for its individual shows, but viewer numbers for Orange is the New Black are comparable to those of successful cable and broadcast TV series, Netflix said.
The company is anticipating another subscriber jump when the second seasons of House of Cards and Orange is the New Black debut next year.
Netflix's original content initiatives represent less than 10 percent of its overall content costs. Users can expect to see more Netflix-made shows going forward — the company plans to double that investment in 2014.
"The original content initiative has done more for investor perceptions of Netflix than it has for the bottom line directly," Paul Gillin, a social and digital media analyst, told the E-Commerce Times. "I don't think original programming is driving much revenue right now, but investors see this as a promising new market for the company with almost unlimited upside."
Netflix seems to be one of the companies anticipating consumer demand in a rapidly evolving digital media industry, said Gillin.
"The market is recognizing and applauding Netflix's decision to put all its guns behind on-demand digital distribution a couple of years ago," he noted. "The company understands that the next generation of TV viewers wants to consume content over any device, anywhere, anytime, and it has tuned its service to deliver that."
Staying Steady in an Evolving Industry
Another key factor in Netflix's success has been its algorithms, said Alfred Poor, senior technologist at ANewDomain. Netflix recognized early on that cable and on-demand TV services — with hundreds of channels and viewing options — was getting to a point where it could be overwhelming for the average viewer.
"Netflix has done on the media side what Amazon was able to do for retail — figure out their consumers and give them personalized recommendations," Poor told the E-Commerce Times. "The streaming or on-demand services that are trying to compete … but can't give customers that personalization are very vulnerable."
Given the evolving nature of the industry, some stock volatility will likely continue going forward, but the company's clearer vision about its future business model will eventually lead to stability, predicted Gillin.
"The multiples are ridiculous, but the same thing has been said about Amazon, Google and Apple in the past," he pointed out. "Netflix is the model for the next generation of video delivery companies, so its revenues will probably catch up with the stock market valuation over time."