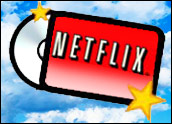 Netflix shares rose sharply after the company reported that it added 610,000 customers and that profit margins in the streaming business this quarter could widen to 11 percent.
That said, there was plenty in the earnings report to worry investors and analysts — the company's profit fell 14 percent from the same period last year and its DVD business lost nearly 3 million subscribers.
Still, given the dire straits Netflix was in last summer, the moderately good news about its customers and quarterly forecast was enough for many investors to shake off their doubts.
Third-Quarter Blues
The third quarter of 2011 was a nail-biter for the company and its shareholders, with an exodus of about 800,000 users irate about a new pricing model the company introduced with little grace — a model that essentially raised subscriber fees by 60 percent.
Customers were also aggrieved by Netflix's plans to separate its DVD business line from its streaming service, forming a new company called "Qwikster." Netflix quickly backpedaled when the extent of the customer hostility became clear.
Push Toward Streaming-Only
It may have been that none of that was necessary — customers seem to be gravitating to Netflix's streaming service anyway. In this latest report, Netflix noted that more customers signed up for streaming-only vs. DVD mail order plans.
Netflix is still facing hurdles, company officials acknowledged, but they are surmountable ones. For instance, competition is strong and can be expected to get stronger. Also, acquiring new content is a perpetual challenge. Original content development may partly solve that problem.
Netflix did not respond to our request for further details.
Content Costs
One looming issue for the company is the cost of content, noted Michael Pachter, an analyst at Wedbush Securities. Netflix appears to ignoring that problem — or perhaps it is playing dumb.
"Netflix says these [content costs] are fixed, but they are not," Pachter told the E-Commerce Times. "They are fixed for the duration of the contract, which is usually a year."
As the number of Netflix users grows, the content owners will want to renegotiate at higher prices, he said, which eventually will create an untenable position for Netflix. "Either it will have to raise costs and irritate its customers or it will have to offer lower-quality content — and then lose customers in the process."
Netflix claimed its roughly 21.5 million domestic streaming customers consumed more than 2 billion hours of content during the quarter — a figure that suggests the average Netflix streaming customer has quadrupled content consumption in just the last year, Pachter said in a research note. While Netflix paid relatively little for streaming content in 2010, it paid a lot for it in 2011.
Indeed, earlier this month Netflix shareholders filed a class action lawsuit against the company for reasons related to trends Pachter referenced in his note. The complaint alleges that Netflix knew all along it would have to jack up prices and didn't reveal that to its shareholders. The suit claims that Netflix had short-term contracts with the studios for their movies and TV shows — and that it also knew that those contracts would have to be renewed at substantially higher price points.
A Fickle Public
Leaving these many issues aside, Netflix's immediate turnaround is quite amazing, Rob Frankel, branding expert and author of The Revenge of Brand X," told the E-Commerce Times.
"What it shows you is that the public will buy what it wants when it wants. And that the public can be very fickle," he said.
That is not necessarily good news for Netflix, Frankel added.
"There is no brand value in Netflix," he maintained. "Right now, they are just who happen to have the latest movies. But customers won't stay with it if that ever changes. That means Netflix is incredibly vulnerable to competition."