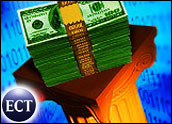 Venture capital investment for the Internet could be poised to return to a healthy volume not seen since the late 1990s and earlier this decade.
In a sign of renewed confidence in the prospects of the consumer Internet, the founders of PayPal, based in San Francisco, and a number of other successful Internet start-ups, last week launched a new investment fund with US$50 million.
"Unlike traditional venture capital funds, the Founders Fund is managed exclusively by entrepreneurs who have successfully developed their own companies, which provides the fund with unmatched depth of knowledge and real-world expertise for building companies from the ground up," said a statement by the investors, including Peter Thiel, co-founder and former chief executive officer of PayPal, and Internet entrepreneurs Ken Howery and Luke Nosek.
Seed Investments
These entrepreneurs have been involved in the creation of IronPort, Facebook, Gamefly and Friendster, among other companies. They will concentrate on seed investments and early round investments.
"The Founders Fund has already identified several extraordinary companies and made investments," the investors' statement read. "Investment size will typically range from $500,000 to $1 million."
A similar project is run by Maveron, founded by Howard Schultz, the chief executive officer of Starbucks. A recently created $200 million fund invests in consumer technologies.
Experts say that investors are trending away from initial public offerings (IPOs), and toward mergers as a way to cash out on their investments. At a conference recently in Milwaukee, Mark Hussen, president of the National Venture Capital Association, said that investors today are seeking longer-term investments, which he called "reasoned investment."
Refining Tactics
Hessen said that since the dot-com crash at the end of the Clinton Administration in 2000, venture capital firms have "re-evaluated" the way they handle funds. They are seeking what he called the "organizer's route," which is to seek to double or triple their investment, rather than to have a spectacular return with an IPO.
"The current environment for IPOs is quite difficult and the market of 2004 has not moved into 2005," said Hessen. "There are very few IPOs and they are not getting the prices the VCs want."
Still, according to Hessen, registering for an IPO may be a good tactic for a small firm, as part of a "dual strategy." After the firm registers for an IPO, and exposes its books to the public, other, big pocketed investors may come along and acquire the firm, he said. By filing with the Securities and Exchange Commission, the firm shows investors that it is compliant with Sarbanes-Oxley financial disclosure requirements, Hessen said.