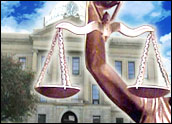 Hoping to put another episode of dot-com era accounting fraud to rest, Homestore said it has finalized a class action lawsuit filed by investors in the e-commerce company over accounting fraud in the wake of the dot-com collapse.
The Westlake Village, California-based company said the settlement in the suit with the California State Teachers' Retirement System and others, which was first filed in December of 2001, was finalized when a lone objector agreed to drop his appeal of the agreement.
Under the settlement, Homestore will distribute some US$13 million in cash and 20 million new shares of its stock to shareholders involved in the class action suits. Homestore said it had already set aside the shares, has accounted for the dilution of its stock, and has placed the cash in an escrow account.
Nasdaq Anniversary
Payments will start being made within 30 to 60 days, Homestore said. The company said in a statement that it has also agreed to "adopt certain corporate governance provisions designed to enhance shareholder interests."
The settlement comes as Wall Street sets to mark the five-year anniversary of the all-time high peak of the Nasdaq. The tech-laden index reached an apex of 5,048.62 on March 10, 2000, only to lose 34 percent over the next month and nearly 80 percent of its value by the time it bottomed in the fall of 2002.
The date will no doubt be marked with some backwards-looking soul-searching by investors about how the dot-com bubble grew as large as it did. Most market watchers say it could be as long as a decade or more before the Nasdaq again approaches the 5,000 level. It currently trades just below 2,100 points.
Homestore, which went public in 1999 and saw its shares trade comfortably above $100 in 2000, was one of scores of companies with exposure to the dot-com world that was accused of presenting false accounting to investors in a bid to keep their companies — and their stocks — from tumbling out of sight as the bubble began to burst.
Troubled Youth
Homestore, which operates the Realtor.com and HomeBuilder.com Web sites, entered the public realm under a cloud, with its initial public offering in August of 1999 marred by word of a federal probe of its access to exclusive listings from the National Association of Realtors on antitrust grounds.
However, the real problems began to arise after the bubble burst.
"A lot of the trouble arose because companies thought they could buy themselves a couple of quarters and by then things would have picked up," Piper Jaffray analyst Safa Rashtchy told the E-Commerce Times. "If they could have seen the end result, they might have taken their medicine sooner."
By late 2002, three former Homestore executives, including its onetime chief financial and chief operating officers, had pleaded guilty to knowingly misstating earnings during a period starting in 2000. The company had restated a slew of earnings reports and seen its stock tumble in the process.
Homestore shares were up 4 percent today, to $2.40 per share, on news the settlement had finally been approved.
Better Days Ahead?
The Homestore accounting fraud had wide-reaching repercussions. Because the site was a partner to other major e-commerce companies, including America Online and real estate giant Cendant, those companies found their own books being scrutinized.
Now, the company is eager to move on and is getting some positive feedback for its turnaround efforts.
Another Piper Jaffray analyst, Aaron Kessler, recently upgraded the company's stock, saying in a research note that the company was positioned to take advantage of positive industry trends, including more comfort among consumers in using the Web to find real estate and initiate transactions, such as mortgage loan approvals.
Homestore releases fourth quarter and full-year earnings results on Wednesday. Analysts are expecting the company to post a loss of a penny per share.