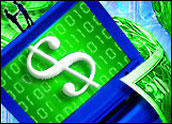 The fallout from the dot-com collapse a few years ago might be fueling a new rush for businesses to build a presence on the World Wide Web. Network Solutions CEO Champ Mitchell sees small businesses setting up shop on the Internet in record numbers.
As storefront welcome signs announce a growing gathering, Mitchell wants his company to be poised to create a new infrastructure to service the new tenants on the Internet-business main street. Newcomers to the Web need more than do-it-yourself, template-based Web site creation tools.
To meet that need, Mitchell tore down the existing customer service framework at Network Solutions and rebuilt it from the ground up. The result is a staff of newly schooled customer service agents trained to solve problems and support an enhanced offering of Web-building services.
New Crop of Tenants
Network Solutions, for years one of the best known domain name registration providers, announced on March 2 its enhanced Web hosting packages. The new service offers solutions for both individuals wanting to establish an online presence and businesses that want to grow online. The round-the-clock support center is trained to take the jargon our of tech help sessions and turn off the money meter for providing service.
"We will provide rational packages that make sense to businesses. Then businesses can customize it efficiently at a good price point," Mitchell said.
Network Solutions' Web hosting includes a free domain name for annual packages and a free Web site building tool. The packages include marketing tools from industry leaders such as Google, Overture and Constant Contact.
According to Mitchell, the growth rate of return to the Web is accelerating rapidly. However, the return of businesses online is not resuming where the dot-com express stopped. Businesses are coming back online for a different purpose.
"The largest growth area is by small businesses. But the growth is in different areas," Mitchell told the E-Commerce Times.
Boosting the Bottom Line
Between 1999 and 2000, the online rush was largely done by speculators buying domain names. The biggest use for the Net back then was wealth enhancement by the speculators.
"We don't see much speculation on the Internet today. Instead, we see more utilization of domain names," Mitchell said.
The majority of his customers are using the Internet so they can be found by their customers. A presence on the Internet is a way to increase the bottom line.
"Consumers now expect companies to be online. It presents a bad image when they aren't," Mitchell said.
As Mitchell sees it, the growth of business on the Internet resembles what happened with the adoption of cell phones.
At first, cell phones were huge devices that were cumbersome and were used strictly by important executives in big corporations. Cell phone uses were limited to critical upper echelon communications.
As cell phones got more accepted, the purchase price dropped, making them more affordable for small business uses. Now cell phones have become so small and relatively inexpensive that they have become mainstream, must-have items even for older children.
"That is how people are starting to use their own Web sites. A parent who has a business Web site will create a Web page for his kid's Little League team. Schools will set up Web sites for the convenience of communicating with the community," Mitchell said.
He said that of 3.5 million new Web site creators, some 200,000 to 300,000 customers fall into that category. The remaining 3 million customers fall into business categories.
Service Innovations
Mitchell believes two factors will continue to drive Network Solutions' new service division and separate it from the competition. One is the power of the corporate brand name. The other is a new approach to customer service.
"We spend more money in marketing our name than any other company. That strategy has made us the most recognized name in the Internet industry," Mitchell said.
The name brand power is driving the company's insertion into the Web services business. Mitchell said Network Solutions in one month sold four times as many packages as was projected. The volume overloaded the company's ability to maintain customer support.
"Thus, we pulled our advertisements until the additional support staff we already hired finished training," he said.
The company redesigned its customer service operation as a platform to offer services to small businesses. The key to that success, at least so far, is the decision to provide affordable customer service around the clock seven days per week.
"To be their solution, we have to start from the beginning to spend time with customers at no charge," Mitchell said.
New Back Office Partner
If small businesses and non-business consumers are going to thrive on the Internet, they will need reliable hand-holding rather than to be treated as inferior because they lack technological savvy, Mitchell explained.
"Companies want to do their own business offerings to serve their own customers. We provide the back office service that they don't want to do themselves. We do it online for efficiency," the Networks' Solutions president and CEO said.
Mitchell said that strategy in one year has turned a customer service operation that was a budget liability into one that runs as a profit-making center.
Network Solutions will expand its Web creation and service offerings with a series of application suites. These suites will enhance customers' online presence.
They provide a new combination of affordability, ease of use, reliability and power. Web site hosting and e-commerce packages are priced from US$9.96 per month to $34.95 per month for an annual plan. The packages come with up to 50 GB of storage, monthly data transfer and up to 100 e-mail boxes.
All of Network Solutions' Web site hosting solutions are supported by free 24/7, live customer support and technical support, and a 30-day limited money back guarantee.