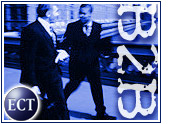 The decision by SAP (NYSE: SAP) to end a software licensing agreement with Commerce One (Nasdaq: CMRC) put additional pressure on the B2B software vendor Wednesday. Near the end of trading, the one-time darling of the B2B market had suffered a 26 percent drop in its share price.
Confirming published reports, SAP Markets spokesperson Paula Stouttold the E-Commerce Times that SAP has opted out of a joint sales relationship with Commerce One. The agreement covered SAP's procurement software, Enterprise Buyer Professional, and Commerce One's lower-end Enterprise Buyer Desktop application.
California-based SAP Markets said that it will abandon the common Enterprise Buyer brand and that Commerce One and SAP will instead sell and develop separateprocurement products.
Disappointing Liaison
This snub from its most important partner, a substantial shareholder and one of the biggest names in software, is a huge blow for an already struggling Commerce One. The market responded by sending the company's share price plummeting by more than 26 percent to US$2.84 by mid-afternoon Wednesday.
While SAP's position is a lot more comfortable than Commerce One's, it is not unaffected by the market news since it owns 20 percent of Commerce One. In 2000, at a time when online B2B exchanges were the height of fashion, the companies came together to jointly develop MarketSet.
The current version of MarketSet, originally Commerce One's B2B exchange offering, now belongs to both SAP and Commerce One. When the B2B online exchange market showed signs of weakening last year, SAP bailed out Commerce One with a $225 million investment.
While SAP says that Commerce One and SAP will still sell their joint B2B product MarketSet, it is uncertain if this commitment will be enough to keep Commerce One above water.
"Enterprise Buyer is just a small subsection of MarketSet. SAP and Commerce One will continue to sell MarketSet," SAP's Stout said.
Go And Procure
However, B2B exchanges have not lived up to the hype that attracted SAP and Commerce One in the first place, and software companies are instead betting on procurement applications.
Although Commerce One still has its own procurement product, the fact that SAP has turned its back on this offering is not going to help its reputation.
Andrew Bartels, e-business research leader at Giga Information Group, told the E-Commerce Times: "Commerce One is the dominant player in B2B exchange platforms, but that's not saying much because while this market hasn't reached zero, it has become limited."
"On the other hand, e-procurement is a market that's been strong and we're expecting more growth in 2002. Commerce One is a player in this market, but it is being marginalized by the big enterprise resource planning software players, including SAP," Bartels added.
Since SAP has been developing its own procurement products, the loss of Commerce One's offering will have minimal impact.
Bartels also noted that Ariba, a one-time B2B exchange competitor of Commerce One, is doing well against the major software vendors in the procurement space because it "pulled out of [exchanges] to concentrate on procurement a year ago."
Out of the Mire
While Yankee Group analyst Lisa Williams was somewhat more positive about Commerce One, she told the E-Commerce Times that "SAP, Oracle and Ariba are better-positioned than Commerce One."
"It's not been a pretty year for B2B," Williams added, " but I've seen Commerce One pull itself out of tricky situations before, so maybe it can do it again."
In reponse to press reports on the change in the two companies' relationship, Commerce One spokesperson Craig Ledo said that "Commerce One and SAP (and SAP Markets) remain strategic partners, and the joint work continues to progress and develop based on the requirements of our customers."
Ledo acknowledged that the joint brand "Enterprise Buyer" is being discontinued, and that the two companies will develop separate versions of the software.
Boom to Gloom
Commerce One is among the most obvious casualties of the boom and subsequent doom of the B2B market. It made its name with a software product designed for public B2B online exchanges at a time when people were still enthusiastic about the concept's potential. The idea was that businesses from a particular industry could drive down prices by trading with their suppliers on a public online trading forum.
However, that dream faded when suppliers proved less than keen to participate for fear of carving up their revenue pie into too many slices. The technical difficulty of connecting a multitude of companies using different sets of proprietary technology seems to have been the nail in the coffin.
After these problems became apparent, companies like SAP, Commerce One, Oracle and Ariba decided to turn their attention to procurement applications that allow each business to deal with their suppliers separately — in the old fashioned, pre-exchange style.