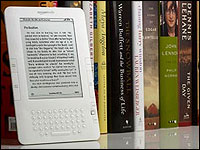 Amazon has reportedly agreed to new pricing terms with two major publishers on e-books sold for its Kindle.
Amazon forged new agreements with Simon & Schuster and HarperCollins Publishers, according to The Wall Street Journal. The new terms — which mirror the deals the two companies struck with Apple for the iPad — will allow most bestsellers to be priced at US$12.99 to $14.99. Some bestsellers, however, will remain at the $9.99 price established by Amazon.
Amazon did not respond to the E-Commerce Times' request for comment by press time.
Macmillan's Footsteps
These new agreements follow Amazon's capitulation in a face-off with book publisher Macmillan earlier this year. Amazon tried to play hardball with the publisher by pulling its books from the Kindle catalog after it demanded the right to sell its bestsellers at higher prices, but its resistance was short-lived.
Amazon quickly acceded to the publisher's terms.
Macmillan "has clearly communicated to us that, regardless of our viewpoint, they are committed to switching to an agency model and charging (US)$12.99 to $14.99 for e-book versions of bestsellers and most hardcover releases," the Kindle team wrote at the time.
Is the Pricing Fight Over?
With three of the six major publishers having gotten their way with e-book pricing, has the era of $9.99 e-books ended?
Amazon was able to set that price when it launched the Kindle, despite publishers' reluctance, because it was the only viable market for e-books. Since the Kindle's launch, other e-readers have come to market — including models from Sony and Barnes & Noble — but none accompanied by the marketing dazzle of Apple's iPad, set for release on Saturday.
Amazon most likely caved in to the publishers' demands to ensure that it would be able to sell the same books that Apple will be offering for its iPad.
It would seem as though the e-book pricing war is now over, with the publishers and Apple declared the winners, said James Brehm, senior consultant and director of business development at Frost & Sullivan.
"I am not so sure of that though," he told the E-Commerce Times. "We are truly in the infancy in e-books right now, and the market has a tendency to set prices, reset them, and then set them again when new technology or players are involved."
Pricing for e-books is still very opaque, he noted.
Clearly, publishers are realizing larger margins with e-books as they are now priced little below standard hardback or paperback books, said Brehm. In other words, publishers don't seem to be inclined to pass along the savings in distribution costs to readers — a point that has not been lost on e-book lovers.
There are other factors at play that could affect pricing. It is unclear how many titles Apple's iBookstore will carry at the beginning. Also, $9.99 has not been the single established price point at Amazon — rather, a range of prices could be found, from free to more than $9.99, and points in between.
"Right now, pricing is very confusing," Brehm said, which gives both the publishers and Amazon and Apple some cover if they need to adjust to changes in demand.
Ramp Up the Marketing
All bets might be off if Amazon were to ramp up its marketing with the next generation of the Kindle — a device that may be very close in functionality to the iPad, according to Rob Enderle, principal of the Enderle Group.
"Amazon is the largest e-tailer in the U.S., but it has never demonstrated the same capacity for marketing that Apple has," Enderle told the E-Commerce Times.
"Amazon has more reach," he noted, "but that doesn't do it any good if people aren't hunting for its products."