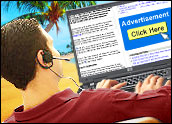 MySpace is tapping into its rich universe of content — that is, its users' profiles — to bulk up its advertising platform.
The ubiquitous social networking Web site will be matching ads to people's profiles so that visitors to, say, a music aficionado's page will see adds for music Web sites.
MySpace began to move in this direction earlier this summer with its offer of "interest targeting" advertising. That effort focused on 10 general categories — such as finance or autos, for example — with user information pulled from registration forms.
Now, the site will leverage users' responses to questions about their likes and dislikes, and even scan their blog entries to determine ad placements.
Monetization of Web 2.0
On one hand, MySpace's refined approach to advertising is emblematic of the increasingly sophisticated monetization of Web 2.0 technologies.
"It is a great move for MySpace to do this," BuzzLogic CEO Rob Crumpler told the E-Commerce Times. "It speaks to trends that are happening right now in the industry. We are finally getting a sense of how to get performance out of social media."
For instance, industry surveys suggest that 65 percent of the people reading blogs do so because they value the bloggers' opinions about the subject matter at hand, Crumpler noted — be it dating, literature or politics.
Advertisers see this credibility as a great vehicle around which to advertise, he said. However, it is only recently that new technologies have emerged to make such targeting easy.
Should We?
To be sure, questions remain as to whether such targeting should be done just because it can be done.
However, such introspection is not based on ethics or matters of taste; rather, there is the all-too-real concern that users, when confronted with the overt exploitation of their online activities, will revolt — and then bolt to a noncommercial Web site.
User Backlash
Last year, for instance, Facebook's users protested the introduction of a new feature called "news feed" that automatically informed a profiler's online friends of every page change. Discontent quickly morphed into a mass online protest, catching Facebook's executives off guard. Within days, the site gave users the option of turning off the news feed, which they hadn't been able to do before.
MySpace is aware of such potential pitfalls and is likely to take the necessary measures to keep its users happy, Joe Rosenbaum, a partner in Reed Smith's advertising, technology and media group, told the E-Commerce Times.
"From a legal standpoint, there will be probably be some additional disclosures it makes to its users," he added.
"There are other potential pitfalls as well," Kathy Sharpe, CEO of Sharpe Partners, a digital marketing agency, told the E-Commerce Times.
"This is a platform that requires the user to split attention between an ad and the content, such as a video," she said. "That is different than TV, so we will have to see how it works out."
Still, this is MySpace, and besides Google, it's "the smartest company around," said Sharpe.
Marketers' Concerns
Advertisers also might question the viability of the model, said Tim Vanderhook, CEO and founder of advertising network Specific Media.
"From my perspective, MySpace is attempting to do what others on the Web have already been doing for some time now — albeit on a much larger scale than others have the capability to do," he told the E-Commerce Times.
"They want to combine demographic data they have access to when a user signs up to the service with the 'conversations' a user has with their friends on the site to try and predict what products or services users are interested in," he explained. "MySpace is doing this through the combined use of demographic data and now behavioral data picked up across their Web site."
The rub, though, is that the behavioral data may not be correct. "The ultimate question at hand for this to be successful is whether it is possible, or accurate, to predict a person is in-market to purchase an automobile if they simply are talking about how good a certain vehicle looks," said Vanderhook.
"If they are able to truly identify in-market consumers in the various categories, they can instantly apply massive scale," he acknowledged. However, "If they are not able to identify the in-market consumers, it will be a tough sell."