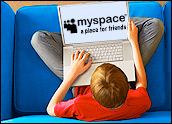 MySpace has launched a pilot project that will help the popular social networking site identify uploaded content that may infringe on someone's copyright.
Its new content management and antipiracy system, which it licensed from Audible Magic, can recognize certain uploaded copyrighted content, match the appropriate business rules to that particular video or song and then take action within a matter of minutes, Audible Magic CEO Vance Ikezoye told the E-Commerce Times.
The content provider has to provide a "digital fingerprint" of the video or song, which Audible Magic then stores in its database, he explained.
"Let's say it is a movie from Warner [Bros.] — it may be that it is fine to upload the movie because Warner has a revenue-sharing agreement with a particular site," Ikezoye noted.
A television studio might decide to just post a two-minute clip of a show or it might not want to upload any content at all to the site.
Protecting Content
"MySpace is dedicated to ensuring that content owners, whether large or small, can both promote and protect their content in our community," said Chris DeWolfe, CEO and cofounder of MySpace. "For MySpace, video filtering is about protecting artists and the work they create."
MySpace has approached, or is in the process of approaching, all of the major movie and TV content providers to participate in the program if they don't already.
Proactive Measures
This technology will aid sites such as MySpace and YouTube as they increasingly find themselves at odds with copyright holders. Last month, 20th Century Fox served YouTube and another video-sharing site, LiveDigital, with subpoenas to hand over information about the user who uploaded episodes of the hit TV series "24" before they aired.
This approach is a more proactive stance than just relying on the Safe Harbor provision in the Digital Millennium Copyright Act (DMCA), which provides a window to take down infringed material.
Now, however, with the deployment of this and similar technologies, MySpace is attempting to have the content providers share in the burden, Charles Baker, a partner with Porter & Hedges, told the E-Commerce Times.
If the technology proves to be very efficient, it could become a best practice for these Web sites, much like banks are now expected to provide safeguards to protect consumers' financial information, he added.
Losing Immunity
In theory, the pilot program is an ideal solution for MySpace and the content providers, as they have tried to balance the problem of infringement against the desire to develop these user-supported content sites for commercial and advertising use. However, as is typical with new technology and business models, any number of potential pitfalls await the participants.
"The benefit is reasonably obvious: By giving media companies the ability to remove offending content, MySpace may be heading off copyright lawsuits and related expenses from those media companies by allowing them to take down anything they object to," Ilan Barzilay, an attorney with Wolf, Greenfield & Sacks, told the E-Commerce Times. "This can lead to significant savings in time and money for MySpace in avoiding these disputes."
However, there are a number of drawbacks, he continued.
First, any policing of postings by one of these content-sharing sites is a step toward abandoning immunity under the DMCA.
"Once you start the job of policing, you can't really go back to arguing that policing isn't your responsibility," Barzilay noted. For instance, he added, "This may be a very important point in the fight between Fox and YouTube."
The Division of Power
Also, Barzilay questioned: To which media companies will MySpace give this power?
"There are quite a few companies out there who have rights in video or music that may be very popular with MySpace posters, but who MySpace may not give the ability to go in and take down content. Unless these companies have that power, too, MySpace may still see lawsuits and subpoenas from some of the smaller players. Of course, those companies may be less likely to litigate, as well, so it's a balancing act," he stated.
However, the biggest obstacle for MySpace is figuring out how much power these media companies will have, Barzilay commented.
"Will MySpace be monitoring what they take down? Taking down an unauthorized posting of a TV episode is one thing, but what about only a 30-second clip? How about a user-created video parody of a popular movie? What if the parody is offensive to the media company?" he asked.
In other words, it's not difficult to come up with scenarios in which media companies would want to remove content from MySpace, and those companies may not have any legal right to remove that content, Barzilay said. "The problem of media companies overstepping their bounds can end up being a big PR and administrative headache for MySpace."
Filtering Claims
Attorney Dan Venglarik of Munck Butrus has similar concerns.
"Without some meaningful way of filtering baseless copyright claims — remember the MPAA (Motion Picture Association of America) lawsuit over a child's 'Harry Potter' book report — from those having merit, they are simply allowing the media companies free reign over their own claims," he told the E-Commerce Times.
"In fact, unless they extend this ability to every Tom, Dick and Harry, they could be setting themselves up for a claim based on allowing only big media companies the ability to block content," Venglarik noted.
Also, MySpace is completely abdicating fair use. "Copyright is not an absolute right — although some companies would certainly like it to be," he added.
The irony is that it appears that MySpace is deploying the technology to immunize itself from liability for contributory copyright infringement by granting these media companies this control, Venglarik said.
"However, it is more likely to simply set up a catch-22 — with companies that don't provide such powers to media companies being lambasted for not taking enough steps to prevent infringement, and companies that do provide such powers to media companies having it used against them as evidence that they were aware of infringement on their site," he concluded.