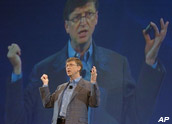 Three major Microsoft shareholders are pushing the board of directors to have the company's founder, Bill Gates, step down from his role as chairman, according to a Reuters report on Tuesday that cites unnamed sources.
The reported push comes at an inopportune time for Microsoft, as it is currently searching for a CEO to take over for newly retired CEO Steve Ballmer.
The argument the investors make is that just with his mere presence on the board, Gates discourages the adoption of new strategies and so could limit the influence of the new CEO as he or she tries to put in place major changes or initiatives.
Gates is also on the special committee searching for Ballmer's successor and theoretically could guide the process to select someone who reflects his own views about the market and technology.
Gates' Influence
Another sticking point is reportedly that Gates' influence on the company's direction is disproportionate to his actual financial stake in Microsoft.
Gates currently owns about 4.5 percent of the company. However, he sells a preset number of his shares every year and is on track to have completely divested himself of any financial stake in Microsoft by 2018.
Microsoft declined to comment for this story.
The Need for New Blood
At first glance, it is easy to agree that the shareholders have a point. Microsoft has missed more than its fair share of product trends and developments in the past 13 years — the mobile revolution being the biggest example.
"The news that three key investors want to push Bill Gates out as Chairman of the Board at Microsoft continues the public relations narrative that all is not good at Microsoft," David Johnson, principal of Strategic Vision, told the E-Commerce Times.
"Ballmer's resignation was viewed as an admission that changes had to be made and a new direction taken for Microsoft to remain competitive in today's world," Johnson added.
A Cry for Greater Dividends?
There is, however, the possibility of ulterior motives in these unnamed shareholders.
"I suspect that these three activist investors are not truly interested in drastic changes to Microsoft's product trajectory, but are mostly interested in drastic changes to Microsoft's capital allocation strategy," Barry Randall, Crabtree Technology model manager on Covestor, told the E-Commerce Times. "Which is just MBA-ese for, 'Let's raise the dividend a lot, shall we?'"
The activism shown by these three outside investors — Randall guesses that they're large mutual or hedge fund managers — is not likely to result in a different trajectory for the CEO search, he continued.
That is because being a board member of a company as successful and still profitable as Microsoft is less about winning and more about not losing, he explained — "as in, not losing the company's current level of profitability and in turn not losing the opportunity to spend billions on research and development to sustain and further that profitability — and not losing the ability to keep raising the dividend a little every year."
'This Could End Badly'
Even if the shareholders truly want to push for major change at Microsoft, though, they are going about it the wrong way, according to Rob Enderle, principal of The Enderle Group.
"The problem with this move is it may actually make things worse," Enderle told the E-Commerce Times. "The right way to approach a change like this is to replace the Chairman first, have the Chairman drive the CEO replacement, then the new CEO reorganizes the company according to his or her vision."
Microsoft's corporate reorganization is proceeding in exactly the opposite fashion, Enderle pointed out, as Ballmer put in place a plan to radically realign the company's organization shortly before he announced he was leaving.
So, Microsoft is now proceeding down a path where it is: 1) reorganizing; 2) getting a new CEO, who may wind up having a different vision for the company and doing the reorganization all over again; and 3) finding a new chairman, who may want someone else as CEO, who then in turn might have yet another vision of how the company should be organized.
"This," Enderle concluded, "could truly end badly."