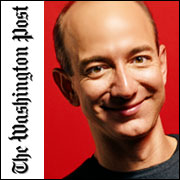 News that Amazon CEO Jeff Bezos is acquiring The Washington Post, one of the top newspapers in the United States, shook the publishing world on Monday. Bezos is buying the paper for US$250 million in cash, a transaction that will include affiliated publications. Bezos is making the acquisition as an individual — the Post is not to be part of Amazon's vast array of products and services.
Much is being said about this sale epitomizing the demise of print journalism's golden era. The Washington Post has carved an indelible mark in U.S. history, with its fight to publish the Pentagon Papers and its reporting on Watergate — events that occurred decades ago but still resonate.
Today, though, the Post is being picked up for a song by a digital entrepreneur, a turn of events that is astounding to many, even though the newspaper industry has been struggling for a number of years — in large part due to the encroachment of online media and the Internet. There is no reason to assume that a paper like The Washington Post could remain immune to these trends.
"The age of the daily newspaper is coming to an end, and print news organizations have been scrambling for some time now to make the transition to the Web, with very mixed results," noted Lance Strate, professor of communication and media studies at Fordham.
Because this is a purchase made by Bezos the individual — not Amazon — it may not shed much light on the future of print journalism. However, it can be expected that there will be some synergies along the way. Certainly the acquisition speaks volumes about how dominant tech money has become in the U.S. economy, but there are only hints of what the deal could mean for digital content, journalism and e-commerce in general.
Bezos' Long Runway
For starters, Bezos does not need the paper to turn a profit — at least, not immediately — which will give him more room to experiment, noted Rich Hanley, associate professor of journalism and graduate journalism director at Quinnipiac University.
"He may see it as a platform for his other personal ambitions that may include revolutionizing the way news is gathered, assembled and delivered," Hanley told the E-Commerce Times.
"He will certainly bring the same blend of curiosity and analysis to solving the crisis of journalism as he did when he selected books as the ideal product for launching an online store," he predicted. "The Internet is, after all, nothing more than interfaces connected to databases, which is the foundation of Bezos' original insight as applied to online commerce."
Bezos probably will experiment with smart reporting through the Kindle Publishing platform, suggested N. Venkat Venkatraman, a business professor at Boston University, which is located in a city that also saw its flagship paper trade recently.
"I see it as an opportunistic buy for him — one that may have a longer-term connection to Amazon, but in the short term, it is about Bezos," he told the E-Commerce Times.
Influencing Politics
The acquisition is also an example of how tech executives are increasingly seeking to influence the power center that is official Washington — a role that in previous years they disregarded as unimportant.
Bezos now has control of the most powerful medium in D.C. in terms of governmental influence, Erik Dochtermann, CEO of media agency KD+E, told the E-Commerce Times.
"This will enable him to manage the communication of the inevitable regulation and restrictions Congress will place on digital copyrights, online taxation practices, antitrust, etc.," he noted.
It is a move straight out of the Murdoch playbook, Dochtermann said. "How he chooses to wield this new power will likely take years to reveal itself."