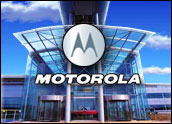 Microsoft won another patent victory over Google's Motorola in Germany this week, after a European court ruled that several Motorola mobile products infringed on a Microsoft patent dealing with touchscreen data input.
Microsoft has the option to pay a bond to enforce an injunction against several Motorola tablets and smartphones. Microsoft has not yet indicated whether it will pursue keeping the products off German shelves.
Motorola could also appeal, design a workaround, or work out a licensing agreement with Microsoft. Competing Android smartphone makers including Samsung and HTC pay licensing fees for the technology, but Motorola did not negotiate a license with Microsoft.
Neither Google nor Microsoft responded to our request for comment.
Tough Workaround
While an appeal could be costly and time-consuming, a redesign to work around the infringing patent might be difficult in this instance, as well, said Roman Tsibulevskiy, patent attorney at Goldstein Law Offices. Google designed a workaround earlier in the year when the ITC found it guilty of infringing on one of Microsoft's messaging patents, but the patent in question now is a more integral part of the Android system.
"Since this patent deals with ways of inputting information into the touchscreen phone, it's more of a way of helping developers who write apps," Tsibulevskiy told the E-Commerce Times. "It's one of the more important features of the underlying platform, so it's tougher to design around without affecting functionality."
That also could explain why Google was more reluctant to negotiate with Microsoft on a licensing fee, since Google owns both Motorola and the platform in question.
"Android is Google's platform," said Tsibulevskiy. "They want to be the ones to license it to other companies, and they could be concerned now that this is a multi-pronged attack by companies like Apple and Microsoft going after the Android system."
Re-Thinking Acquisition?
Part of Google's defense against that type of attack, though, was the Motorola Mobility acquisition. Google, which doesn't have the patent portfolio depth as some of its competitors such as RIM or Nokia that have more years of experience in the telecom space, if not as much influence on today's market.
Google's US$12 billion purchase was meant to give the relatively young Internet company more power in the wireless industry.
"This is not the first time Microsoft sued Google, or vice versa," said Tsibulevskiy. "Some Microsoft won, and some Google won. They have different victories and this is about who can negotiate better and who has better leverage. Google spent $12 billion as a way of being able to get protection against suits like this, and it's still their best barrier."
Just because Google hasn't been able to protect itself from every suit doesn't mean the purchase was in vain, said Douglas Sorocco, patent attorney at Dunlap Codding. Patent battles are never-ending, as has been more obvious lately with the high-profile spat between Apple and Samsung continuing to play out. Google's Motorola purchase gave it better standing to compete in that field, and one preliminary ruling in Germany doesn't mean it's out of the game, said Sorocco.
"In the end, the merit of the Motorola patents will be determined when Google enforces them against Apple or third parties," he told the E-Commerce Times. "Apple and Microsoft had a bit of a head start in the litigation and just because Motorola may infringe a Microsoft patent doesn't mean that Microsoft doesn't infringe a Motorola patent. It isn't a zero sum situation."