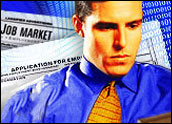 Monster Worldwide last week announced that it was rolling out a beta of a social recruitment ad platform, starting this Thursday.
Monster Social Ads uses Twitter's Ads API to serve tailored job listings to Twitter users, based on career attributes such as occupation or industry type.
A number of U.S. companies have signed on for the beta, including Blue Shield of California, Citizens Financial, eBay, Geico, ManpowerGroup, T-Mobile and UPS. Full commercial availability is set for Q1 2015.
Monster has been pushing to build out its targeting tools to expand the functionality of its ubiquitous — but seemingly stagnant and dated — online jobs board that several years ago was viewed as an essential stop for any job seeker.
Monster also has rolled out TalentBin, a tool that builds profiles of individual employees by scanning social media sites and industry-specific destinations. It is billed as a passive database of talent, as employees do not actively participate or provide input.
Remaking a Brand
These offerings are viewed as Monster's way in re-establishing its primacy in the job search community. Over the years its status as must-visit website has been downgraded. It is now one of many sites a job seeker can visit but hardly essential.
LinkedIn, of course, has much to do with this — it is now viewed as an important recruiting and job search too,l not only for employees but also for executives. Monster never acquired that cachet.
Monster vs. LinkedIn
It is hard to imagine Monster overtaking LinkedIn, but it doesn't have to, said Rob Enderle, president and principal analyst of the Enderle Group.
"This is not an either/or proposition. A job seeker will be active on as many sites as he or she thinks is necessary. No one wants to miss out on an opportunity," he told the E-Commerce Times.
Still, Monster has a ways to go before it becomes one of the sites that must be included in a job search, said David Johnson, principal of Strategic Vision.
"Monster as a brand can be revived," he told the E-Commerce Times, "but it is going to need to do a lot more than just add a few social media tools."What Monster needs at this point is a branding story on why it is still the place to go. It has to sell itself again to people."
Where Monster fell down, Johnson said, was in assuming that because it once was the dominant destination it always would remain so — a mistake that LinkedIn definitely is not making.
"LinkedIn has reinvented itself a couple of times since its launch, and it is always adding new tools and features," he noted. "Monster didn't do that, at least not to a significant degree."
Too Late?
It may be that for Monster, it is too late to stage a comeback, mused Val Wright, of ValWright Consulting.
What Monster is offering with Twitter "is just more noise in a deafening world of social media."
For starters, "Twitter feeds are bursting at the seams," she told the E-Commerce Times. "Adding job adverts just adds to that flood of information."
The bigger problem for Monster, though, is that the power of the personal referral always will trump technology, Wright continued.
"Too many hiring managers and recruiters rely on automated systems and technical solutions when the real answer is at the end of the phone," she pointed out. "Call people you know in your network and ask for referrals. Regularly tell your network about your company culture and the ideal people you want to work there. Let them be your API to your future employees."
This is true to a certain extent for other social media networks as well, Wright said.
"LinkedIn is asking me to congratulate people on their birthdays and now Twitter will splatter me with job adverts," she noted. "If you are hiring, you could have called three potential candidates in the time it takes you to check your likes, profile views and retweets."