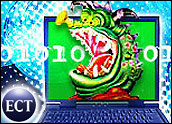 Despite a lingering hangover for employment in the United States, Monster.com's parent company trimmed its fiscal losses in the first quarter and said it would have posted a profit if not for charges associated with restructuring.
TMP Worldwide said it lost US$28 million in the quarter, much of that tied to the spin-off of its executive search wing, as revenue decreased to $168.9 million from $181.5 million in the year-ago period. The results beat analysts' expectations and extended a run of strong earnings reports for dot-com and technology companies.
TMPW CEO Andrew J. McKelvey said the spinoff will enable the company to "center our focus on realizing the true potential of Monster and our other businesses," including direct marketing and online advertising units.
As if to underscore that point, TMPW announced Wednesday that it will change its name to Monster Worldwide to reflect the power of the Monster brand, which was built with millions of dollars in high-profile TV ad campaigns during the dot-com boom.
"The company's main goal is to propel Monster forward," McKelvey said in a conference call.
Pieces and Parts
Analysts have been watching TMPW closely because it was one of the most aggressive companies on the acquisition trail during 2001 and 2002, scooping up beleaguered competitors hammered by the recession.
For example, Monster bought FlipDog.com and Europe-based Jobline.Net. It also paid $800,000 for the domain name of defunct site Jobs.com as part of a bid to create a network of regional sites focused on nonprofessional jobs.
Despite landing those firms, however, Monster lost the biggest fish when it failed to close a deal to buy HotJobs.com in the face of regulatory concerns. Instead, HotJobs was sold to Yahoo.
A Clearer Picture
Salomon Smith Barney analyst Lanny Baker told the E-Commerce Times that both companies are working to position their job sites for an eventual economic recovery by trying to appeal to as broad a cross-section of corporations and job-seekers as possible.
Forrester Research analyst Charlene Li agreed that the online job board war will almost certainly heat up with the economy and will be a pitched battle. Monster.com has name recognition and customer loyalty on its side, while Yahoo has a sprawling user base of millions of regular visitors it can direct toward its HotJobs site.
"Both sides are fine-tuning a strategy that was put in place expecting a much shorter recovery," Li told the E-Commerce Times. Meanwhile, she added, the lengthy period of slow job growth has made it all but impossible for new job sites to gain traction in the marketplace.
Baker said he had been expecting TMPW to spin off some of its assets, while some other analysts had speculated that Monster might be spun off at some point. "The integration gets a lot easier if they're focused on doing one or two things," he said.
Cash and Carry
The buying spree had its costs. Late in 2002, Monster shares slipped dramatically as the company warned about its outlook for growth in the face of recession and said it would further cut its workforce. TMPW laid off some 1,000 workers during 2002. The rash of bad news helped push Monster shares as low as $7.63 last fall.
But the latest earnings news and the new focus on Monster helped spark a rally in the stock in early trading Wednesday, with shares up 17 percent to $15.92.
Monster also says it has a strong stockpile of cash, with $125 million on the books at the end of the first quarter.