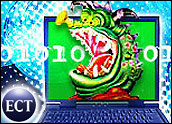 Shares of Monster.com parent company TMP Worldwide tumbled to their lowest levels in nearly four years after the company reduced its outlook for the rest of this year and said it will lay off more workers.
Specifically, TMP said that in the face of lower revenue and earnings, it will raise its total number of job cuts to 1,000. According to the company, 750 workers have already been let go, and the rest will leave sometime this quarter.
"We wanted to demonstrate that we are taking decisive action," company CEO Andrew McKelvey said in a conference call.
The New York-based firm, which does online marketing and yellow page listings in addition to job search functions, also announced that chief operating officer Jim Treacy will leave the company after overseeing a transition period.
Monster Mash
As a result, TMP shares tumbled more than 45 percent during regular trading Wednesday, touching a low of US$7.93 before rebounding slightly to close at $8.63, a one-day loss of about 30 percent. The shares continued to recoup some of their losses in early trading Thursday, moving up 4 percent to $8.96.
The company blamed a slower-than-expected economic recovery and corporations that are waiting as long as possible to begin hiring again.
"The labor markets are still relatively weak, and hiring budgets have tended to lag the overall economy," McKelvey said. "It looks as if this is going to happen again as we come out of this recession."
"We are not yet seeing signs that corporations have opened their wallets and are ready to spend on human capital services," TMP chief financial officer Michael Sileck added.
Cycle or Cyclone?
McKelvey said that because TMP relies too heavily on job placement and executive recruitment fees for revenue, it experiences strong fluctuations along with economic cycles.
"We've seen it before, and we'll see it again," he noted. "We just can't say when."
One bright spot in the past quarter came from the federal government, with hiring initiatives sparked by September 11th resulting in thousands of job postings. Monster has more than 2,700 listings for airport security and screening jobs on its site, and it has forwarded about 750,000 resumes to the government for review.
Monster also is helping recruit additional workers for the FBI, the U.S. Customs Service and other departments that are being strengthened for homeland defense purposes.
HotJobs or Hot Potato?
Some analysts pointed out the possibility that Monster might be losing market share, particularly because some of its competitors have lowered their prices amid the hiring slowdown.
Salomon Smith Barney analyst Lanny Baker told the E-Commerce Times that TMP is also dealing with the massive expansion it underwent at the beginning of the slowdown, when it went on a spending spree that culminated with its unsuccessful attempt to buy HotJobs, which was later acquired by Yahoo.
Baker and other analysts have often questioned whether Monster.com and other online recruitment properties fit with TMP's offline yellow pages holdings.
"The company says they are moving forward with all their parts," Baker said. "But it may warrant another look if things don't pick up soon."
Status Quo
McKelvey did acknowledge that TMP plans no more acquisitions. And he said the company's decision to hold the line on pricing during the downturn will pay dividends when a recovery takes hold.
The company also might consider a share buyback program, Sileck said, because its stock price hovers at historic low levels.
Layoffs will continue across all TMP departments, Treacy said in the conference call. TMP originally said it would lay off about 500 workers, but the company now has upped its target to 1,000 layoffs, with 750 already completed.
As for Treacy's departure, McKelvey said that last fall, Treacy began expressing eagerness to take on more responsibilities, saying he wanted to be a CEO but recognizing that the role would likely not open up at TMP anytime soon.