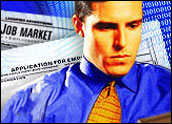 The vast majority of online job seekers visit just one of the top career sites on a regular basis, according to a new report from Jupiter Media Metrix. That finding may escalate an ongoing war between the two largest Web career companies.
Jupiter said 76 percent of job seekers are loyal to a single career site, while another 15 percent use just two of the top 10 sites. Just 7 percent of job seekers visited three or more of the most popular career sites.
Not a Loyalty Barometer
Mainak Mazumdar, head of research and product management at Media Metrix, told the E-Commerce Times that the numbers may indicate more about how people use the sites than about customer loyalty.
"People get used to how a site is laid out and how it works," Mazumdar said. "If you think about how people use these sites, they are constantly looking for new information, the stuff that's been added since they were last there."
Users may tend to choose a site based on the jobs posted there. "That is what drives the loyalty initially, and what makes the competition for landing those corporate deals so heated," he added.
Short Selling
According to the study's findings, corporations that rely on a single Web site to recruit workers are selling themselves short by not exposing their career listings to millions of potential workers, Media Metrix vice president Stephen Kim noted.
"The ratings reveal the importance of searching multiple career sites to widen the pool of prospective job seekers," Kim said.
They also show that there are two types of online job seekers, with passive seekers who rely on relatively few sites far outnumbering so-called active job seekers.
Top Two Contenders
Not surprisingly, the top two job sites had the highest percentage of loyal users. Hotjobs came out on top, with 76 percent of its visitors shunning other top 10 career sites. The same was true for 58 percent of Monster's user base.
There was even less switching back and forth between the top two sites. Just 23 percent of HotJobs users also visited Monster.com, while a similarly paltry 29 percent of Monster users found their way to HotJobs.
Shifting Demographics
Jupiter's research also found that certain categories of workers dominate the online job-seeking population, with information systems and consulting workers overrepresented and workers in hospitality, nonprofit and publishing fields underrepresented.
Jupiter found a demographic imbalance as well. Workers over 50 were 22 percent less likely than the overall online population to use career sites.
However, Mazumdar said, job site demographics probably have begun to shift already. Whereas once only technology jobs were found online, today a broad array of opportunities are listed.
"We know that the Internet is starting to look more and more like mainstream America all the time," he noted. "It's only a matter of time before it starts to show up here as well."
Before Yahoo!
Jupiter's study was based on Internet use data collected in December 2001. Therefore, it predates Yahoo's US$436 million acquisition of HotJobs, which closed earlier this year.
Before the Yahoo! purchase, Monster also made a bid for HotJobs last year, only to have the deal stall when regulatory questions were raised. The Yahoo! deal has sparked an escalation of the battle for visitors and market share.
Yahoo! now has finished integrating HotJobs into its site, while Monster has rolled out a number of new initiatives.
Last month, for instance, Monster parent company TMP Worldwide announced it paid $800,000 to acquire the Jobs.com domain name. The company said it plans to use the domain to promote Monster and a new locally based initiative, which aims to bring hourly and contract workers onto the Web in search of jobs.