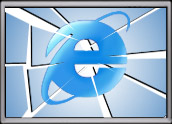 Net Applications' browser market report for October continues to track Internet Explorer's steady decline, from 60.99 percent in October 2010 to 53.39 percent in September 2011 to 52.63 percent in October 2011.
Some caveats must be included in these numbers, though. For starters, these figures just refer to desktop use. Some 6 percent of the browser marketplace is now mobile — where Internet Explorer doesn't have much of a presence at all.
Here, Safari reigns, holding a 62.17 percent share of the mobile market. Android's browser follows with 18.65 percent.
Add these numbers together and the end figure is not pretty for Microsoft: It holds just under 50 percent of the total browser market.
Two Different Beasts
That is not how Net Applications calculates it though, EVP Vince Vizzaccaro told the E-Commerce Times.
"We track desktop market share versus mobile market share, and on the desktop Internet Explore is still at 52 percent."
It is not wise to count Internet Explorer out even though its market share is in a decline, Vizzaccaro added, for several reasons, starting with the fact that the mobile market is still very much in play.
"With Windows Phone starting to get out there, especially with the deal with Nokia, I believe there is significant room for growth for Microsoft's IE."
Business Versus Consumers
Another reason why Internet Explorer has staying power, he added, is that it is a staple of the business community.
"The browser market is still very much a dual-user community, divided between consumers and businesses."
Oftentimes the same user who wouldn't think of deploying Internet Explorer at home — preferring instead to use Firefox or Chrome — can't use anything else but IE at work.
The reason for consumers' preference for Chrome and Firefox are obvious, Vizzaccaro did acknowledge: Both Google and Mozilla have taken a rapid upgrade, rapid feature-enhancement approach to their respective products.
"That plays wonderfully at home but in the corporate world it falls flat," he said.
Businesses want to see a much longer deployment cycle, want to know that there was a lot of testing done, want to make sure that the browser is completely safe for business machines, he said.
Usability on Par
Internet Explorer does suffer from a perception problem, Vizzaccaro added, which is unfortunate because all of the browsers are on par with each other in terms of usability and features.
"Because Chrome is the new kid on block, it is gaining some mind share but I don't see a big difference in usability in any of the browsers," he concluded.
Not that Net Applications is reflective of that. Besides Internet Explorer's decline, the research firm's monthly stats also chronicles Google's Chrome Web browser ascending star. It has cracked 17.6 percent market share after jumping 1.4 percent month-over-month from September and is closely gaining on Firefox's 22.5 percent. Indeed, Chrome could well pass Firefox by early 2012.