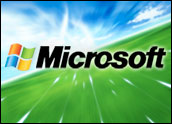 Microsoft reported a mixed performance on Friday for its second quarter ending Dec. 31. Earnings were essentially flat compared with the same period last year. The company reported a profit of US$6.62 billion, or 78 cents a share, on $20.89 billion in revenue. For the same period a year ago, Microsoft reported a profit of $6.63 billion on $19.95 billion in revenue.
More worrisome, though, was the downward trend in sales of its flagship Windows operating system.
Its Windows and Windows Live division posted $4.74 billion in revenue, down 6 percent compared with a year ago. Another important cash cow for Microsoft — its Business Division, consisting of Office, Exchange, and Sharepoint — posted a mere 3 percent growth compared with a year earlier, bringing in $6.28 billion in revenue.
These line items have renewed speculation about Microsoft's demise.
"Microsoft is a solid company," Charles King, principal with Pund-IT, told the E-Commerce Times. "By any measure, it is a true money-making machine. It is not going anywhere, and Windows is not going anywhere."
The doom-and-gloom assessments are a philosophical problem for Microsoft, according to King. "Microsoft has some real challenges, but the most frustrating must be hearing about its impending demise all of the time. That has got to be wearing on a company."
The Good News
In other areas, though, Microsoft posted respectable growth. The Server and Tools division drew $4.77 billion in revenue, for an 11 percent gain compared with a year ago.
The Online Services division reported $784 million in revenue, for a 10 percent increase compared with a year earlier. The Entertainment and Devices division brought in $4.24 billion in revenue, a 15 percent hike compared with the year-ago quarter.
Games are a true bright spot for Microsoft now, King said.
"I think one of the highlights of 2010 for Microsoft was the huge uptake in Kinect. Xbox, of course, is doing very well too."
Windows 8, expected at the end of the year, should goose Windows sales, he added.
Beyond Tradition
A look beyond Microsoft's traditional business lines clearly indicates that Microsoft has a challenge gaining traction in new areas, King continued.
"Bing, for example, has done well, but it is a minority player," he said. Expectations run high that Microsoft will jettison it sooner or later.
"Its cloud computing platform is not catching on," observed King. "In mobile, it is getting hammered by a company that a few years ago was on life support — by that I mean Apple."
A Better Marketing Strategy
Microsoft could do a better job telling the market its story, said Laura DiDio, principal of ITIC. This is a surprising charge against a company that was covered exhaustively in the press a decade ago but lately seems to be overshadowed by Facebook, Google and Apple.
"People are not aware of what its true strengths are," DiDio told the E-Commerce Times.
People are not aware, for example, that SQL is one of the most secure server platforms on the market — or, ironically, that the performance, scalability and security of Windows has never been better, she said.
"As for its Azure cloud computing line — when you say cloud computing, do you think of Microsoft?" asked DiDio. "Probably not."
The Gaps
There obvious gaps are in its strategy, DiDio maintained.
"They need a tablet strategy and a more coherent mobile phone strategy. They need to show that they can transition faster now that computing is no longer tied to a PC," she said.
All of this is doable, in DiDio's view. "This is a company with a lot of strengths."
A Microsoft spokesperson was not immediately available to comment for this story.