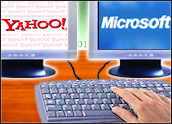 Microsoft is taking a bold stance in its seemingly endless Yahoo talks, now saying no further negotiations will take place unless a new board is elected. A public statement issued Monday by Microsoft references recent meetings with billionaire Yahoo investor Carl Icahn, who issued a letter of his own once again urging a leadership change.
The newly stated support may give an unprecedented surge of power to Icahn's cause, but Yahoo isn't giving up just yet. Execs spent the holiday weekend meeting with Time Warner to talk about a potential AOL takeover, according to The Times, and are struggling to seal some kind of deal prior to the Aug. 1 shareholders' meeting. Time Warner was one of the companies that had met with Microsoft last week about a potential joint purchase.
He Said, She Said
Microsoft is making it clear it's done dealing with Yahoo's current management. The statement issued Monday morning says Microsoft has "never been able to reach an agreement in a timely way on acceptable terms with the current management" and has "concluded that [it] cannot reach an agreement with them." It goes on to say that "after the shareholder election, Microsoft would be interested in discussing with a new board a major transaction with Yahoo, such as either a transaction to purchase the 'Search' function with large financial guarantees or, in the alternative, purchasing the whole company."
Icahn's letter echoes many of the same sentiments. "There is no need to keep pointing out the mistakes I believe Yahoo made by not immediately taking a (US)$33 [per share] offer made by Microsoft," he wrote. "But one thing is clear — Jerry Yang and the current board of Yahoo will not be able to 'botch up' a negotiation with Microsoft again, simply because they will not have the opportunity."
Icahn promised immediate discussions with Microsoft if his proposed board is voted into place. He also promised an "expeditious" move to replace Yang with "a new CEO with operating experience."
Yahoo's responding statement, in contrast, reiterated its past assertions — claiming the current board "continues to stand ready to enter into negotiations with Microsoft" and that the election of a new board "would not lead to an outcome that would be in the best interests of Yahoo's stockholders." Even with Microsoft's clear stance, Yahoo's board asked the company to "make a proposal immediately" and called Icahn's authority into question, saying if he "has an actual plan for Yahoo beyond hoping that Microsoft might actually consummate a deal which they have repeatedly walked away from, [they] would be very interested in hearing it."
A Public Battle
The saga has turned into a very bitter and very public battle — and it's sure to only escalate further in the coming weeks.
"In general, proxy contests are PR battles," said Michael Goldman, managing director of TM Capital — a company that has orchestrated numerous mergers and acquisitions. "In the end, you're trying to capture the hearts and minds of the shareholders, and that's not just done in private conversations with the major shareholders," he told the E-Commerce Times.
Ultimately, of course, it'll be up to shareholders to determine what direction is taken next. These new twists, though, may provide a decent amount of influence.
"Until now, Icahn really had not been able to point to evidence that in fact his new slate would be better positioned to negotiate with Microsoft than the incumbent board. Getting Microsoft to in effect take his side is a pretty powerful development," Goldman pointed out.
"I would think this can't be something the incumbent board of Yahoo is very happy about," he added.
Sensible Strategy
The move represents a clear strategy by Microsoft to put pressure on shareholders. It's an approach that may make a lot of sense.
"They built up a lot of animosity," Ronald Rizzuto, professor and co-director of the Reiman School of Finance at the University of Denver's Daniels College of Business, told the E-Commerce Times. "All of that just plays to the deal coming to them, and they'll get it for a lower amount."
The tactic may also leave Yahoo with tied hands — and no real remaining options.
"I'm not sure what cards they have to play at this point," Goldman said. "Ordinarily, what a company in this position that may lose a proxy fight does is reach out to another 'white knight' to buy the company at a higher price, or engage in negotiations with this bidder. In this case, it doesn't appear there's a 'white knight,' and Microsoft has made it clear they won't talk to them."
Check Mate?
The current board has previously rejected the notion of a split purchase — which may have been, Rizzuto speculated, its last real chance of success.
"I think the existing board is not going to let it happen, so Icahn needs to be successful with his proxy fight in order for anything to happen," he said.
If a new board does come into place, though, all those options could return into the realm of possibility.
"If Icahn's proxy fight is successful … then I think all of that is on the table. They'll split the company, they'll sell the company, or they'll reject Microsoft altogether and try to recapitalize the company," Rizzuto predicted.
In any case, the heat is definitely on — and with less than four weeks until the shareholders' vote, Yahoo is no doubt feeling the tension.
"I think a deal with Microsoft just became a great deal more likely," Goldman said. "You can picture now the pressure that is now on both the management team and the incumbent board. The temperature has risen considerably — and the status quo is probably not going to survive here."