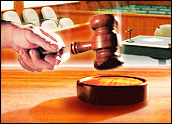 A battle is brewing over a secretive intellectual property agreement being negotiated by the U.S. and several other nations. Leaked documents indicate the Anti-Counterfeiting Trade Agreement (ACTA) would allow multiple countries to enforce each others' intellectual property laws. That, some fear, could pose substantial risks to your privacy rights.
Two public interest groups, the Electronic Frontier Foundation and Public Knowledge, filed a lawsuit this week to gain access to the documents. Their previous requests for information, they say, have gone unfilled.
Fight Against Time
The EFF first filed a Freedom of Information Act request in June. The Freedom of Information Act, or FOIA, requires government agencies to provide copies of documents to citizens when requested. The groups, however, say they've received no response — and given the short timeframe in which the anti-counterfeiting agreement is believed to be completed, they want to see immediate action.
"This is being negotiated in secret on an expedited timeframe. It's now September, and no one's seen a draft," EFF International Policy Director Gwen Hinze told the E-Commerce Times.
The government's goal, Hinze believes, is to have the agreement finished by the end of the year. That means the clock is ticking — and time is rapidly running out to gain access to the information before it goes into effect.
"It's very difficult for citizens to make any type of evaluation about the media reports that have been circulating, to understand the impact that this may have on their lives — [to] be able to have the ability to have an effective, meaningful say in what's being negotiated," she commented.
Potential Impact
Word of the Anti-Counterfeiting Trade Agreement first broke last fall, but little official information has been released about it thus far. The leaked documents — posted on the WikiLeaks Web site — suggest the agreement could make peer-to-peer file sharing an international crime. It may also, some speculate, allow government agencies to search personal media devices like iPods during border checks and allow Internet service providers to more closely track and monitor customer activity. Some wording even suggests ISPs could be allowed to directly delete any copyright-violating material within their control on the Internet.
"[The agreement] raises serious concerns for citizens' civil liberties and privacy rights," Hinze asserted. "Citizens should be able to have the ability to see what is being negotiated to understand and evaluate the impact on their lives — and to be able to put their views forward to their political leaders," she said.
A public hearing is scheduled to take place Monday in Washington, D.C.