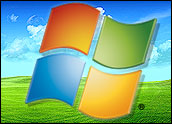 Microsoft's moving on to a new phase of its Windows ad campaign, and Jerry Seinfeld won't be joining the adventure. A new series of ads premiering Thursday shifts to a more direct brand and product focus — a sharp change from the eccentric, image-oriented spots Seinfeld had helped orchestrate.
In contrast to rumors circulating around the Web, though, Microsoft insists the transition has been part of the plan all along. The goal, the company says, was to reintroduce the brand and start conversations with the Seinfeld spots, then move on to the more targeted territory we're about to see.
The Next Phase
The first set of new ads has already launched in major newspapers as well as on the Internet. It's considered the "manifesto" phase, laying out the philosophy behind Windows and initiating the "Life Without Walls" slogan that has thus far remained yet to be broadly used.
The pioneering television spot will debut during Thursday night's premiere of "The Office" on NBC. It'll aim to showcase the diversity of people who use Windows products. It will also embrace an image created by a competitor. The commercial starts with an actual Microsoft employee — who just happens to bear a striking resemblance to a certain character from a certain series of Apple ads — stating: "Hello, I'm a PC, and I've been made into a stereotype." A slew of "everyday" Windows users follows, with everyone from Eva Longoria to average Americans whose names you won't know popping up on-screen.
Seinfeld Speculation
So what's the deal with Seinfeld? He's gone for now — Microsoft says the Bill and Jerry spots won't be airing any more — but he may come back. While the change has created plenty of buzz about the comedian getting canned, Microsoft says that couldn't be further from the truth.
As to the amount of money spent on securing Seinfeld for the spots, remember: Jerry didn't get US$300 million. That's the overall budget for the campaign. Microsoft shelled out $10 million for Seinfeld's work, which isn't an unfathomable amount for a high-profile spokesperson to be paid for three long-form commercials. Still, the effectiveness of his part of the campaign is yet to be demonstrated — and some wonder whether it'll pay off in the end.
"Certainly Jerry Seinfeld is an outstanding celebrity and is associated with several great brands," Terry Daugherty, director of the Media Research Lab at the University of Texas at Austin, told the E-Commerce Times. "What I was confused and perplexed about was the intended target audience that they were trying to reach with that campaign, and whether — given the years that 'Seinfeld' has been off the air — that audience would be as familiar with him," he said.
Behind the Blueprint
In any event, the next phase of the campaign doesn't come completely as a surprise. While the Bill and Jerry ads may have grabbed attention and caused chuckles, it was no secret that Microsoft intended to eventually drill down into more specific information related to its products.
"[The initial Seinfeld commercials] were just sort of cute ads — there's an awful lot about shoes, which clearly are literally and figuratively a step removed from Microsoft," Kevin Lane Keller, professor of marketing at Dartmouth College, told the E-Commerce Times. "That really was to get people feeling positive about the campaign, the brand — and then following up with ads that have more," he pointed out.
Taking what's become a negative image — the nerdy PC guy — and turning it into something positive is a logical enough counterattack to Apple's ongoing assault. The question, then, is whether it can work.
"You're seeing Apple continuously poke fun at the various stereotypes and the various issues," Daugherty noted. "I think the desire is to reinvent their brand so it's perceived as more of a creative outlet at this point, rather than as something that is more big business and accounting-driven," he said.
So Seinfeld fans, relax: All signs indicate our friendly funnyman hasn't had the kibosh put on him, and there's no bad-breaking-upping at play. Serenity now, my friends … serenity now.