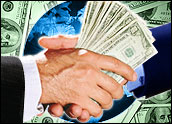 First came cash. Now, Microsoft is offering up prizes to try to get to you to use its Live Search product. The company announced the start of a new SearchPerks initiative Wednesday. The program awards frequent flyer-style points for Live searches that can then be redeemed for various gifts.
It's the latest move in Microsoft's struggle to gain ground in the Google-dominated search market. Recent research from ComScore shows Google holding on to 63 percent of all U.S.-based searches, with Live coming in third at 8.3 percent. (Yahoo accounted for 19.6 percent.)
Incentive Ideas
SearchPerks works by tracking your Live queries — up to 25 a day — and maintaining a running total from now until April of 2009. Users are required to download and install a separate utility to manage the numbers. As of now, it works only with Internet Explorer.
"Our experience with other incentive-based programs demonstrated that there is an opportunity to increase user loyalty in the search space," Microsoft spokesperson Joel Steinfeld — who declined to answer any specific questions about the initiative — told the E-Commerce Times.
Microsoft's last incentive-based push — the Cashback program, announced in May — offered discounts on online purchases located through Live searching. While the program led to an initial increase in Live Search usage, the numbers did not appear to stick. Live Search has actually lost users since the start of 2008, while Google has continued to grow.
Program Problems
The problem, then, may require a deeper solution. Giving people a reason to try a service may result in a short-lived wave of new visitors — but as the aforementioned data indicates, something more is required to keep them around for the long haul.
"You need to have incentives or disparage the existing offering to get people to move," Rob Enderle, principal analyst with the Enderle Group, told the E-Commerce Times. "But you have to have something the people that move see as better so you hold them," he continued. "Otherwise, they just rotate back."
Another issue, Enderle believes, is simple human nature. Getting people to break their habits without good reason isn't so simple.
"Humans don't like to change," he said. "Once you're satisfied with a particular offering, unless you're made unsatisfied with it, you're unlikely to move."
Beyond the Prizes
Microsoft appears to realize that incentives alone won't shake up the search market — at least, not with any long-lasting effects.
"Building audience requires innovation in the product as well as a diverse set of marketing programs to communicate with consumers. We are actively pursuing both to continue growing our search share," Steinfeld indicated.
The question, then, is whether the new incentive-based campaign has enough product innovation around it to keep people coming back once they get their prize. Based on the past campaigns, that's far from a sure thing.
"The reality is the Live Search is not holding the people. They'll try it, but to them, it's not enough better to hold them," Enderle observed.
This kind of promotion can also end up backfiring, Enderle asserts, if the company doesn't have the goods to back it up. The reason? Users enticed to try the service end up leaving disappointed — and even more opinionated.
"All it does is simply convince you the product's bad — so the next time you try to move them, they're going to be much less willing to move. Now they've formed a solid opinion on the product, it hasn't been positive, and your task is even harder," Enderle pointed out.
Finding the Answer
Microsoft's ultimate answer may lie in a familiar place. Years ago, the company was able to knock industry leader Lotus 1-2-3 off the word processing platform with its then-unproven Office word processing suite.
"They did it by creating almost a mirror product to Lotus 1-2-3 — so when people changed over, they got the benefits of a suite, but they didn't have the disadvantage of having to learn another tool," Enderle said.
Certainly, the challenge within the search market is equally daunting. Cash and prizes, though, won't likely win it alone.
"Before you roll an incentive program, you have to be really sure that you can provide a better experience," Enderle concluded.