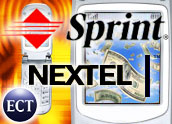 Sprint may be a step closer to selling off its Nextel business. Latin American carrier NII holdings has expressed interest in a purchase, according to The Wall Street Journal — which cites "people familiar with the matter" as revealing the news. Several private-equity firms such as Cerberus Capital Management have also come forward as potential buyers, the Journal says.
Sprint has struggled with its Nextel operation almost since the start. The carriers merged in 2005, and it didn't take long for scores of customers to defect from the Nextel service. The operation, purchased for US$35 billion, is now estimated to be worth only about $5 billion.
Acquisition Issues
NII was actually once affiliated with Nextel; the Virginia-based company used to be Nextel's international division prior to splitting off as its own independent entity. It still, however, utilizes the same network systems as Nextel.
Nonetheless, the notion of a new merger may not be simple. Sprint and Nextel have integrated many of their operational systems, the Journal points out, and separating them could be costly. Legal questions over the debt agreements signed at the time of Sprint's original acquisition may also prove problematic, the unnamed sources say.
Sprint has devoted a decent amount of resources toward rebuilding the Nextel business, including numerous investments in Nextel's iDEN network to improve its quality and attempt to regain lost customers. As for any official stance, though, the company is declining to elaborate on the reports due to their unsubstantiated nature.
"We don't comment on rumors and speculation," corporate spokesperson James Fisher told the E-Commerce Times.
A Logical Buyer
If anyone were to be a logical buyer for Nextel, NII may be it — whether or not these particular rumors end up being true.
"They're a proven game-changer in that segment," Alex Liu, VP of Telecom Practice at AT Kearney, told the E-Commerce Times. "They took an international business out of bankruptcy several years ago and turned it into a stock market darling," he said.
While NII has traditionally focused on areas such as Argentina, Brazil and Mexico, taking on an American-focused operation might just have its merits.
"I think it'd be great if they could find a way to use their magic in the U.S. developed market," Liu remarked. "It'd be a very interesting story if it were to actually unfold."
Sprint's Side
The appeal for Sprint is slightly more obvious. The company has been considering a sale or spinoff for several months — and may have even been quietly looking at the notion long before then.
"I'm sure they probably wanted to sell it a couple years ago so they could focus on their core business," Liu suggested. "It was pretty clear shortly after the acquisition that the hopes were not going to be delivered."
Eliminating Nextel, then, could give the company a much-needed boost in its attempts to rebuild and focus on new segments — things such as the still-under-development WiMax network effort it's attempting to create with Clearwire.
"It's just one less what we call 'noose around their neck,'" Liu said. "They've got this debt overhang as a result of the customer service issues, they've got all these other technologies they're trying to balance, they're trying to roll out WiMax … I think it's just one less hassle to worry about," he commented.
If the recent reports are in fact correct, a second round of bids could be coming within a matter of days. That, Liu believes, would not be a total surprise.
"I'm sure there's something to the rumors," he said.
"It only makes sense that they'd sort of try to focus their agenda, limit the number of items on their plate."