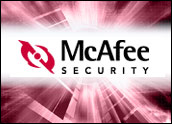 Virus protection giant McAfee is expanding its security empire with the acquisition of Secure Computing. The company announced plans for the purchase Monday morning. It'll pay US$465 million, or $5.75 per share, in the merger.
The move will no doubt help expand McAfee's suite of security-related products as it works to compete with the market's top provider, Symantec. Secure Computing's stock jumped close to 25 percent following the news.
Fast Action
The decision didn't take long to reach; it was just a couple of weeks ago that Secure Computing made a purchase of its own, acquiring identity-monitoring firm Securify for $15 million.
"It's been a pretty quick thing," Secure Computing senior vice president of marketing Atri Chatterjee told the E-Commerce Times. "They approached us and said, 'What do you think of this idea?'"
The joining will integrate Secure Computing as part of McAfee's network security division. Current Secure Computing CEO Dan Ryan will head up that division, leading McAfee's effort to become the industry leader in the area. It will gain Secure Computing's 22,000 enterprise customers and 2,000 partners to help reach that goal.
Consolidation Trend
The merger reflects a growing market trend of consolidation, the companies attest. Banding together, they believe, makes sense not only from a corporate perspective — but also from a customer perspective.
"Customers are buying suite products. They don't want individual point products," Chatterjee explained.
McAfee and Secure Computing don't actually overlap in product offerings, Chatterjee said, so customers won't be forced to make any choices or give anything up. Secure Computing's products include solutions such as corporate traffic filtering tools, mail encryption software, and firewall-related applications.
"We are completely complementary, but together, we really have a full portfolio solution," he commented. "When you think of McAfee, you think of a computer that's really strong on the desktop, really understands antivirus. … When you look at Secure Computing, you think of enterprise level security products — a firewall that's never been hacked in the last 13 years … [that's] used by the [Department of Defense], by banks, insurance companies."
Branding Benefit
Perhaps the biggest benefit from Secure Computing's standpoint is the brand. While the company has secured a number of positive reviews within the industry, its leaders know their name has never been synonymous with security. McAfee offers that recognition.
"How many people really know of Secure Computing? We aren't a household name the way McAfee is," Chatterjee pointed out.
While the company will soon operate under a new name, Chatterjee promises its clients won't see any drop in value.
"Everything remains the same for them. Their support remains the same. We continue to be here for them," he said.
The deal is expected to be finalized by the end of 2008.