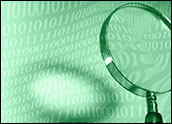 Microsoft will be providing mobile search to Verizon's huge customer base under a new partnership agreement that Verizon CEO Ivan Seidenberg and Microsoft CEO Steve Ballmer have publicly confirmed — Seidenberg in remarks at a Citigroup conference and Ballmer at the Consumer Electronics Show.
The deal is a coup for Microsoft, given that Verizon is on track to become the largest cellular service provider in the U.S., once its acquisition of Alltel closes this week.
Financial terms were not disclosed. Once the five-year agreement goes into effect this quarter, new Verizon-powered smartphones will include a link to Microsoft's Live Search portal, bolstering its bona fides with millions of consumers. Verizon customers will be able to download the link to their existing phones.
The offering will include voice commands, location-based searches, and other information useful to people on the go, such as gas prices, movie times or information about local businesses. Microsoft will also manage Verizon Wireless' Mobile Web service, according to news accounts.
Valuable Real Estate
Though it's not the first mobile search deal between a carrier and a vendor, Verizon's tie-up with Microsoft could prove to be particularly significant, due to the size of the user base, the growing sophistication of mobile search — which, until recently, proved than effective — and the fact that options for search engines on wireless carriers are growing more limited.
The industry is reminiscent of the land grab days of the Old West, Gerry Purdy, chief analyst of mobile and wireless at Frost & Sullivan, told the E-Commerce Times. As more players — software vendors, for instance — enter the space, real estate on a mobile handset is becoming more and more valuable.
"For Microsoft, Google and Yahoo, the desktop is still an open playing field, but mobile is getting more and more competitive," he said.
High-Profile Deal
Indeed, this is a high-profile win over Google and Yahoo for Microsoft, Greg Sterling, principal with Sterling Intelligence, told the E-Commerce Times. "It will expose a lot of people to Live Search. Also, it allows Microsoft to parade this new relationship in front of other advertisers."
How widely it will be utilized remains to be seen, if only because so few details are available. Until people start using the tools, much of the speculation around it is still an abstraction.
"I would want to see how integrated the offering is and how truly collaborative it will be," Sterling said. For example, Sterling would like Microsoft to clarify what it means by a "hot key" to trigger search. Is it software-generated, or will there be an actual key in the mobile phone hardware for consumers to hit?
Still, based on preliminary statements by Microsoft, it appears to be a partnership of substance, Sterling added.
Microsoft was unavailable for comment.
Mobile Leading Search
Even prior to the deal between Microsoft and Verizon, mobile search technology was gaining prominence, noted Frost & Sullivan's Purdy.
"Some of the research in mobile search is actually influencing desktop search right now," he said.
Mobile search — limited by a small screen, tiny keys and users who are walking, talking or otherwise occupied — must be concise in delivering results.
"When someone types in the name of a restaurant on a mobile device, they expect to get the address, phone number and possibly a map to the place," said Purdy. Until recently, you couldn't get that through a desktop search, but "now you are starting to — and that is because the search engines are leveraging the latest research in mobile search."