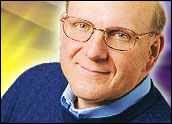 Microsoft CEO Steve Ballmer told Wall Street analysts on Tuesday that the software giant has no intention of making any more job cuts despite the year-long U.S. recession's effects on the technology industry.
The Street did not respond to the news favorably. Microsoft stock hit an 11-year low. The company's stock was down 1.86 percent to US$16.85 per share in mid-day trading on Wednesday.
Ballmer also talked about the impending threat of a desktop version of Google's Android mobile operating system and Microsoft's intention to release a stripped-down version of the next version of Windows for low-cost, Internet-ready netbooks.
No More Job Cuts
Microsoft announced plans to cut 5,000 jobs on Jan. 22 — its first large-scale layoff in its 34-year history. On Tuesday, Ballmer said there would be no more.
Though Wall Street clearly wanted more job cuts from Microsoft, the company has to be careful about how it goes about maintaining the proper headcount, said Rob Enderle, principal analyst at the Enderle Group.
"They were damned if they did and damned if they didn't cut jobs," he told the E-Commerce Times. "There is a lot of pressure on [Microsoft] due to visa issues. They need the right skill set. As they do these cuts, they see they are losing critical resources. In a software company, it's not like you have a whole lot of fat."
Ballmer is probably making the right decision with respect to workforce levels, Enderle said, since one large round of job cuts is likely to create less job-security anxiety among employees than several smaller rounds of cuts might cause.
Android Lurking in the Wings
Ballmer also identified Google's Android mobile operating system as a potential threat to Windows.
"A desktop version of Google's Android operating system is in tests," Enderle said. "[Ballmer] is correct — it will emerge as a desktop operating system, and it will be a threat. We believe there are two major PC vendors who are testing it. It's not expected to show up until the second half of 2010."
Microsoft's dominance of the desktop operating system market is vulnerable to competition, he noted, due to the slow adoption of Windows Vista and the fact that a lot of the Windows-powered hardware in the market is really old.
"The market is getting ready to make a move, and that provides a perfect opportunity for competitive displacement," Enderle noted. "You're seeing a certain amount of that with Apple, whose share of the PC market has crept up over the last few years."
Netbooks and Windows 7
In his talks with financial analysts, Ballmer also addressed the fast-growing netbook PC market, saying Microsoft intends to release a stripped-down version of its new operating system, Windows 7, to run the popular, low-end computers.
Enderle said he's been running the beta version of Windows 7 on an HP MX 1000 netbook for some time now and that it runs quite smoothly.
Microsoft's last rollout of a new operating system did not go so smoothly, however.
When Windows Vista debuted a few years ago, customers complained that their older PCs could not properly run the OS, despite assurances from Microsoft that they could.
The company offered a number of different versions of Vista — some more powerful than others — to run on a variety of PCs and even came up with the "Windows Vista Capable" logo to identify computers robust enough to run the new operating system.
Now, several thousand complaints later, Microsoft is embroiled in a lawsuit over the dust-up.
For his part, Enderle believes Microsoft — and its customers — will be wiser the next time around.
"Releasing a stripped-down version of Windows 7 on new hardware is different than what happened with Vista," he said. "This shouldn't result in the same problem. Customers will see what they're getting at the point of sale and will make a decision based on that."