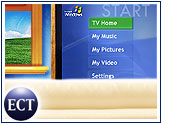 Microsoft has a new weapon in its advertising arsenal. The software giant has acquired Navic Networks, an interactive television ad developer that targets specific audiences with its service. Terms of the deal were not disclosed.
Navic uses audience measuring data to determine which broadcast commercials might be of interest to households. It then works with the cable provider to place interactive overlays on top of the ads, giving viewers options to click with their remotes for additional information.
Options include getting pamphlets via e-mail or even regular mail, using personal information on file with the cable company. Microsoft hopes the technology will help it gain a wider advertising reach than ever before.
Expanding Interactivity
Even with the fast growth of Internet advertising, companies are still spending the majority of their budgets on television-based spots. It's no surprise, then, that Microsoft decided to take interactive ideas already in use online and apply them on-air.
"It's very analogous to what happens on the Internet," Scott Ferris, general manager of Microsoft Advertiser and Publisher Solutions, told the E-Commerce Times. "An ad isn't placed on your Web page until you actually type that Web page in and it's being rendered to your browser," he explained.
The Navic technology — currently reaching 35 million homes — will let Microsoft put that principle to use in the broadcast world. Navic's database will analyze demographic information about a home, then automatically decide what ad content to send to its digital box — right on the spot.
"It's building off the actual viewership that's happening at that time," Ferris said. "[It's] collecting tuning data, non-personally identifiable information, and bringing back a good representation of what's happening in the audience."
The same notion may soon pop up in other forms of new media as well — from cell phones to gaming consoles, even shopping centers.
"As you're walking the mall and you walk by Banana Republic … there could be ads that are being addressed to flat panel displays pretty dynamically, based on the shoppers," Ferris told the E-Commerce Times.
"It's about bringing more engagement and more activity to that static ad unit," he added.
Technology Trend
While Microsoft's acquisition is currently focused solely on advertising, many see it as a beginning of a trend that may eventually reach much further.
"What you're really talking about is the birth of interactive television," Tim Bajarin, principal analyst with Creative Strategies, told the E-Commerce Times. "When all broadcast moves to digital and we end up with very smart digital front-ends to television, you're going be able to interact with content in ways we could only dream about today," he said.
The same technology powering the personalized ads could have plenty of other implications for TV viewers down the road.
"You're moving toward what is, in essence, the future of television: interactive television," Bajarin noted. "Part of this new model might actually be thrown into a game — 'Jeopardy' or … 'Wheel of Fortune' — where I can click and play from home and be in the process as a part of the game."
Whether it's advertising or entertaining, Bajarin said, the root concept is the same: figuring out who you are and targeting content to your interests.
"The biggest impact is personalizing the message," he explained. "Most of the advertising today is based on the premise of casting out a big net and hoping to find someone who has an interest and will follow through. We're going away from one-size-fits-all to creating ads that are of interest to you based on preferences and lifestyle."