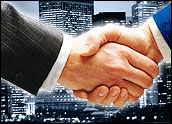 Microsoft's efforts to build out its advertising network received a considerable boost with the announcement that Facebook has signed on with the company to receive online advertising services.
As part of the multiyear contract, Microsoft will be the exclusive provider of banner advertising and sponsored links on Facebook, which will use the company's adCenter platform. The two firms also agreed to work together on future technology and advertising initiatives.
Graphical ad placements and automated text-based advertisements that are targeted to content and will eventually be geared to aggregate user behavior on an anonymous basis are among the current and future initiatives the companies will explore.
"We believe that the combination of Microsoft and Facebook strengths will be incredibly attractive to advertisers as they forge more meaningful connections with one of the largest, most engaged audiences on the Internet," said Steve Berkowitz, senior vice president of the online services group at Microsoft. "The consumer assets brought to bear by this relationship will be very hard to match."
The new advertising campaigns are expected to appear in the early fall.
Relatively Speaking
From Google's or Yahoo's perspective, the Facebook deal might not seem that significant. True, Facebook is the second largest U.S. social networking site after MySpace, but in the larger universe of prospective partners, it is not as though Microsoft has signed on MySpace or AOL, noted David Card, senior analyst for JupiterResearch.
"Microsoft is trying to build an advertising network to compete with Google and Yahoo," he told the E-Commerce Times. "When you are building such a network, naturally you want to sign up a very big partner that can bring to the table a huge number of page views."
Unfortunately for Microsoft, he added, the number of such partners is a very short list — and many have signed up already with Microsoft's competitors. AOL, for instance, renewed its partnership with Google, which landed mySpace's plum account earlier this year. eBay recently inked a deal with Yahoo.
Also, this particular transaction is noteworthy for what it doesn't include, namely search advertising, Card pointed out. "AdCenter has been built from the ground up to handle both display and search advertising," he said.
Realigning the Market
All that said, "It's a great deal for Microsoft, especially considering [Facebook] is one of the first it has signed," Card concluded.
Launched this spring, adCenter is still in its very early days and could easily realign the online advertising arena as it goes after Google's market share. One differentiator, according to Microsoft, is that its platform gives advertisers greater control over ad placement, so they can more accurately target consumers.