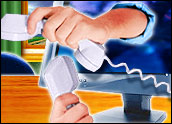 Microsoft on Wednesday confirmed that it plans to acquire Tellme, a privately held speech recognition vendor. The deal gives Microsoft functionality in Tellme's core competencies: voice-activated nationwide directory assistance, enterprise customer service and voice-enabled mobile search.
Founded in 1999, Tellme doesn't have the name recognition of Microsoft, IBM or Intel, but millions of people use its services every day when they call directory assistance. Businesses use Tellme to provide voice-access to customers for services ranging from banking to package-tracking.
More to Come
Potential areas of development include hosted voice-enabled customer service solutions that complement the unified communications offerings and voice user interfaces in existing Microsoft products, and search services that integrate with Live Search for mobile offerings.
"We've made great strides in speech technologies but have only scratched the surface of what is possible," said Jeff Raikes, president of the Microsoft Business Division. "The acquisition of Tellme will bolster Microsoft's existing speech capabilities, bringing both immediate and longer-term value to our customers and partners."
Financial terms of the acquisition were not announced. The deal is expected to close in the second quarter of 2007. Tellme, which has more than 320 employees, will continue to operate from its Mountain View, Calif., headquarters as part of the Microsoft Business Division.
Synergies and Other Drivers
The immediate uses for this application are in mobile and phone search, Rob Enderle of the Enderle Group told the E-Commerce Times. "Those are the low hanging fruit."
Now dominated by cellular network providers — at US$1 per call — cell phone search would likely prove very lucrative for Microsoft.
A voice recognition platform such as Tellme's would also complement Microsoft's Software as a Service product offerings, Todd Landry, senior vice president of Sphere Communications, told the E-Commerce Times.
"Tellme is structured as a set of services. In terms of potential synergy, one thing to consider is that SaaS would be a stronger product with voice-recognition enablement," he pointed out.
Voice-Directed Computers
There are longer-term opportunities as well, Jim Peake, founder and CEO of My Success Gateway and former vice president of sales of AudioPoint.net, a voice recognition gateway, told the E-Commerce Times.
"Microsoft's acquisition of Tellme is the natural progression of providing a voice interface to the Net — or what Tellme calls 'DialTone 2.0.' It will be consumers who benefit the most," Peake noted, "with the combined speech scientists working together to achieve an easy to use IVR (interactive voice recognition) experience."
One niche, in the longer term, could be voice-to-text recognition. Voice command for computers or other assisted devices already works well, Enderle said, "because there is a set number of commands someone would give to a computer."
Voice to text, though, has been something of a disappointment, with the applications stumbling on such nuances as punctuation and grammar ("too" versus "two," for instance).
Some of these issues are on the verge of being resolved, Enderle said.
"The limitations had to do with processing power," he explained, "and just recently, the hardware was developed to provide that."