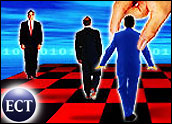 Microsoft is restructuring its Platforms & Services Division ostensibly to better align Windows and MSN assets with its overall Live strategy.
News of the reorganization closely follows another recent announcement from the company — that its forthcoming operating system, Vista, will be delayed until the beginning of next year. The two developments are not likely to be purely coincidental.
"Unquestionably, there is some level of connection," Bob O'Donnell, IDC's program VP for clients and displays, told the E-Commerce Times. "Reorganizations just don't happen overnight though. This has probably been in the works for some time."
Redmond may have decided to speed up its restructuring plans when it made the decision to delay Vista, he suggested.
The postponement of the Vista launch will not have an overwhelming impact on Microsoft, but it will affect PC sales, O'Donnell noted.
Counting on Vista
"Q4 is the biggest quarter for PC sales, particularly in the United States. A lot of vendors were counting on Vista to drive new sales, and the fact that Vista will not hit in Q4 is going to hurt a bit."
On Thursday, Microsoft confirmed the timeline for 2007 Office's release. It will make the product available to business customers through its volume licensing program in October 2006.
Retail and OEM (original equipment manufacturer) availability are scheduled to coincide with the retail and OEM availability of Vista, now scheduled for January 2007.
Eight New Groups
The new organization will be made up of eight new and existing groups, according to Microsoft: the Windows and Windows Live Group; the Windows Live Platform Group; the Online Business Group; the Market Expansion Group; the Core Operating System Division; the Windows Client Marketing Group; the Developer and Platform Evangelism Group; and the Server and Tools Business Group.
"We will also continue to invest in capabilities to execute on our software plus services vision, including additional resource investments related to Windows Live and the Windows Live Platform," Kevin Johnson, co-president of PSD, said.
"Expanding the capabilities of our Windows Live platform, extending our reach and impact with and to advertisers, continuing to enhance our search offering, and building out our operational infrastructure are critical to our long-term success," he noted.
Most of these groups already exist in the current structure. Microsoft formed new units that focus on product expansion and, not surprisingly, Windows Live. These include the Windows Live Platform Group, which brings together a number of MSN team members, and the Market Expansion Group, which will focus on emerging markets and new form factors.