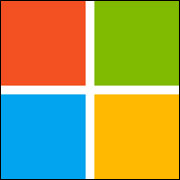 Count Microsoft among the tech companies that posted blah earnings for the three months ending Sept. 30 — in Microsoft's case its first quarter for fiscal year 2013.
It posted revenue of US$16.01 billion for the quarter, down from $17.37 billion in the same quarter a year ago. Operating income, net income, and diluted earnings per share were $5.31 billion, $4.47 billion, and $0.53 per share, respectively. In the year-ago quarter, operating income, net income, and diluted earnings per share were $7.20 billion, $5.74 billion, and $0.68 per share, respectively.
The current quarterly report includes a deferral of $1.36 billion of revenue, due to the Windows Upgrade Offer, pre-sales of Windows 8 to OEMs prior to general availability, and the Office Offer.
A Mixed Bag
The Server & Tools business reported $4.55 billion in revenue for the quarter, an 8 percent increase from the prior-year period that was driven by double-digit revenue growth in SQL Server and more than 20 percent growth in System Center revenue.
The Microsoft Business Division posted $5.5 billion in revenue for the quarter, a 2 percent decrease from the prior-year period. However, Microsoft's productivity server offerings — including Lync, SharePoint and Exchange — posted double-digit revenue growth.
The Windows & Windows Live Division realized $3.24 billion in revenue for a 33 percent decrease year over year. The Online Services Division reported revenue of $697 million, a 9 percent increase. Online advertising revenue rose by 15 percent, reflecting growth in revenue per search. The Entertainment and Devices Division posted revenue of $1.95 billion, a decrease of 1 percent.
The company reaffirmed its fiscal year 2013 operating expense guidance of $30.3 billion to $30.9 billion.
Microsoft did not respond to our request for further details.
Waiting for Windows 8
Microsoft was a moving target as far as Wall Street analysts were concerned, so its report — unlike Google's Q3 filing — didn't shock and dismay.
"There was a lot of uncertainty about this quarter for Microsoft," said Andreas Scherer, managing partner of Salto Partners.
There was the launch of Windows 8 to look forward to. However, it was equally clear that, as is the case in almost every build up to a new Windows release, the PC market would decline in anticipation. Indeed, revenue for the Windows & Windows Live Division dropped 33 percent.
Original equipment manufacturers drew down their Windows 7 inventory in anticipation, Microsoft CFO Peter Klein, noted in the earnings conference call. On the other hand, pre-sales of Windows 8 clocked in at close to $800 million.
Microsoft also faced a worsening macroeconomic climate.
On the whole, though, the company has more to look forward to than to dread in the coming months, Salto's Scherer said.
"Certainly Steve Ballmer shared his enthusiasm for what is ahead for the company between the launch of Windows 8, the new Windows 8 PCs and tablets, the next version of Office, and a wide array of products and services for the enterprise and consumers," he remarked.
Big Gaps in the Product Portfolio
Still, Microsoft has some serious gaps in its product portfolio, noted Bob Freedland, a Covestor investment manager.
"They do not have a strong smartphone platform, unlike Apple and Google offerings; they are not No. 1 in the iPad-type platform — again unlike Apple," he told the E-Commerce Times.
"I believe they are a long-term player, but they have been a me-too type company — opening Microsoft Stores that lack the magic of Apple stores and a Windows platform that works and tries to be more Apple-like," Freedland said. "The earnings results reflect this situation."
As for the next quarter, Microsoft's vaunted array of forthcoming products may wind up falling flat with consumers and businesses, Mike Tarsala, chartered market technician at Covestor, told the E-Commerce Times.
"I don't know that consumers care about a new version of Windows," he said. "I don't see it driving a whole lot of business — certainly not as much as past upgrades. And I'm not sure what will."
Microsoft is going to have a tough time convincing the world that the Surface tablet is cool, Tarsala continued. "It's not clearly superior to the iPad, so I'm not convinced it's going to make much of a sales impact."