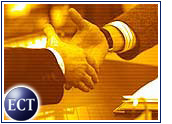 Microsoft (Nasdaq: MSFT) announced Monday that it has reached an agreement to purchase privately held e-business software company NCompass Labs, reportedly for US$36 million.
Microsoft said that it is acquiring Vancouver, British Columbia-based NCompass Labs in response to customer demand for Web content management products that ensure that "organizations derive the maximum value possible from their investments in Internet, intranet and extranet Web sites."
NCompass Labs' flagship product is NCompass Resolution, a software package that Microsoft said allows companies to deploy personalized e-business Web sites.
NCompass Resolution will be renamed Microsoft Content Management Server 2001 in the fall.
Built for Speed
In addition to allowing e-commerce sites to offer personalized content, NCompass Resolution provides content management tools including revision tracking, content archiving and approval control; templates to ensure Web site consistency; and support for multilingual and wireless Web content.
Current customers of NCompass Resolution include the Associated Press, Marriott International and the Royal Canadian Mint.
"Microsoft understands that effectively managing Web content is critical to the success of any e-business initiative and, ultimately, to the profitability of the overall business," said Paul Flessner, senior vice president of the .NET Enterprise Server Division at Redmond, Washington-based Microsoft.
According to Flessner, NCompass Labs' Web content management system will be integrated with the Microsoft .NET enterprise servers and will allow customers "to implement complete e-business solutions faster and more effectively."
Simplifying the Web
Microsoft and other e-giants have made several deals targeting small and mid-sized companies in recent weeks.
Last month, Microsoft itself announced a new alliance with Partner America, designed to help small businesses venture into the world of e-commerce. The two companies said they will co-sponsor a series of Microsoft seminars and workshops across the United States to teach small businesses how to succeed online.
Also in April, Microsoft announced that subscribers to bCentral, the software giant's online service center for businesses, would have access to the Microsoft bCentral Commerce Manager, a product that allows businesses to add e-commerce functionality to Web pages created with FrontPage 2000.
Not-So-Small Business
Not to be left out, America Online (NYSE: AOL) and PurchasePro (Nasdaq: PPRO) recently unveiled 10 new Internet-related services directed at the small-biz market. Their services will be offered through several of AOL's strategic partners, including Homestore.com and Hewlett-Packard.
Other AOL partners include BroadVisionwhich will sell personalized e-commerce software through the portal to small businesses. Bigstep.com also has signed on to provide Web-building tools to AOL-Netbusiness customers.