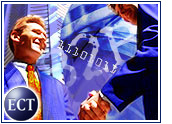 Looking to give their small business e-commerce services a boost, America Online (NYSE: AOL) and PurchasePro (Nasdaq: PPRO) unveiled 10 new services Wednesday through a host of strategic partners.
The deals, aimed at beefing up the offerings that AOL extends to small and medium businesses through its Netscape Netbusiness division, include alliances with Homestore.com, Hewlett-Packard and others.
AOL linked with Las Vegas, Nevada-based PurchasePro last fall, shortly after unveiling the Netbusiness product, which is designed to be an online portal and business-to-business (B2B) marketplace for small companies, which are often left out of other B2B deals because of their size.
In January, AOL and PurchasePro announced they would launch a multimillion dollar, national advertising campaign to promote the service. Ads have appeared in AOL Time Warner's Fortune magazine and on CNN.
'Network Effect'
Purchase Pro chief executive officer Charles E. Johnson, Jr. said that casting a wide net and finding the right strategic partners is essential for the network to succeed.
"One of the keys to building a successful business-to-business network is interoperability," Johnson said. "This 'network effect' is a driving force in the success of the marketplace."
Partners Aplenty
Among the new deals announced is an agreement to link with Hewlett-Packard's HP Business Store, which will target its offerings of personal computers, servers and other tech equipment to small business needs.
Other new partners include BroadVisionInc., which will sell personalized e-commerce software, CD-Rom replicator Viva Magnetics, online agricultural marketplace eFruit and ProfitScape, a B2B transaction company.
Bigstep.com has also been signed on to provide Web-building tools to Netbusiness customers.
Slowly but Surely
When it launched Netbusiness in September, AOL said it was targeting the 28 million U.S. businesses that have 10 employees or less, a group that accounts for nearly half of all annual sales and employs more than 50 percent of all workers.
That group has only now begun to embrace the Web fully, however, with many remaining skeptical as recently as last year about the Internet's ability to have any direct impact on their companies' operations.
Not Alone
Other major tech players have gone after the same market with different approaches. For instance, eBay recently teamed with Microsoft to offer auction services through the software giant's bCentral site.
AOL is confident that it can leverage its membership shape into success in the business market as well.
"The small business revolution on the Internet has begun," AOL chief executive officer Barry Schuler said.