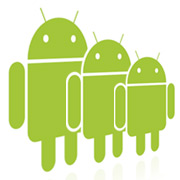 Google is the subject of another antitrust complaint in Europe, this time filed by FairSearch, a coalition of companies that allege the search giant is using its Android operating system to unfairly promote its own apps and data.
One of the well-known FairSearch members is Microsoft, no stranger to past regulatory antitrust actions regarding its browser and operating systems. Microsoft is joining other companies such as Expedia, TripAdvisor and online shopping aggregator TheFind to claim Google is using its search prowess to thwart online competition.
FairSearch referred to Google's Android operating system as a "Trojan Horse," since consumers receive the OS for free when purchasing a mobile device. However, Android smartphone makers are then required to preload an Android smartphone or tablet with Google's own apps and services such as YouTube or Maps. The coalition argues that gives Google an unfair shot at increasing profit and controlling consumer data.
The European Commission has not yet publicly stated whether it will look into the FairSearch complaint, but the regulators have been investigating antitrust claims against Google since 2010. The Commission has stated before that it has received cooperation from Google regarding the inquiries.
Neither Google nor the European Commission responded to our request to comment for this story.
Other Side of the Fight
Ironically, if Google fights back aggressively against the FairSearch claims, it will likely employ many of the same legal arguments that Microsoft used in its antitrust battles, said Herbert Hovenkamp, professor of law at the University of Iowa. The main difference is that Google's defense will likely be more compelling.
One of FairSearch's claims is that the Android operating system has a 70 percent marketshare in units shipped in 2012, making it a dominant smartphone OS. In comparison,Microsoft's share of the Windows operating system on computers was more than 90 percent. Android may have snagged a good chunk of the smartphone market, Hovenkamp admitted. Unlike PC consumers a decade or more ago, however, mainstream smartphone users know that plenty of other options exist.
"The first hurdle the complainers need to get over is showing that there is not realistic customer choice," Hovenkamp told the E-Commerce Times. "The situation with smartphones is different now. You have to be a pretty naive customer to think you're constrained to Android, or to not know you have the ability to go to the app store and search for alternate apps to the pre-installed Android ones."
Trying Out The Argument in Europe
The case wouldn't be strong enough to be heard in the U.S., said Hovenkamp, which might be part of the reason that FairSearch is taking up this issue in particular with the European authorities.
"I don't think this could go anywhere in the U.S., but the Europeans are a little more aggressive and a little more paternalistic about consumers," he noted. "They're a little more inclined to protect consumers they believe might be poorly informed."
While FairSearch's claim might not be a slam dunk, it's still part of a larger issue that the European regulatory authorities will want to investigate. The argument might not gain traction in the U.S., but it's one more against Google that the European Commission will take into consideration, said Michael Carrier,law professor at Rutgers School of Law.
"FairSearch has been aggressively challenging an array of Google conduct, and the European Commission has spent a lot of time examining Google," he told the E-Commerce Times."Android has a 70 percent market share, but preferred placement doesn't coerce the consumer as much as being forced to take a second product. In short, this is not the strongest competition claim ever filed, but one the Commission will closely examine."