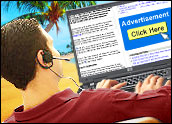 Microsoft has initiated a civil lawsuit in the Western District of Seattle seeking US$750,000 in damages from three individuals in Vancouver, British Columbia, for committing click fraud. The three alleged fraudsters are two brothers and a mother — Eric Lam, Gordon Lam and Melanie Suen — who, according to Microsoft, have deployed botnets to drive up clicks at Web sites that compete with theirs.
"It is a great example of competitor click fraud," Steve O'Brien, vice president of marketing at Click Forensics, told the E-Commerce Times — a form of click fraud in which someone clicks on a competitor's ads in order to spend down their ad budget as fast as possible with worthless clicks.
The Lams and Suen run two Web sites, one focused on auto insurance and the other focused on the video game, "World of Warcraft." It is precisely because the verticals are so unrelated that Microsoft's investigators tumbled to the fraud, according to O'Brien.
"They apparently used hundreds of thousands of IP addresses to click on competitor Web sites," he said. The scope of the fraud "was shocking. Microsoft had to reimburse injured advertisers more than $1 million."
New Directions
Microsoft v. Lam, et al, represents an expansion of the Redmond's fight against cybercrime, according to a blog post by Microsoft counsel Tim Cranton, who leads the company's Internet Safety Enforcement Team.
"Most of my team's work to date has focused on 'classic' cybercrime issues such as child protection, security, malicious code and online fraud," notes Cranton. "Today, we are expanding that effort to tackle a less traditional but increasingly crucial area for cybercrime enforcement: Click fraud and related threats to the online advertising community."
The tactics deployed by the defendants, he goes on to say, impacted Microsoft's advertising platform and potentially other networks as well.
Changing Tone
Click fraud is an activity in which a person, automated script or computer program imitates a legitimate Web surfer and clicks on an online ad for the purpose of generating a fraudulent 'charge-per-click' without having actual interest in the target of the ad's link, according to Cranton's definition. What he doesn't delve into are the fraudsters' motives.
Ironically, there's been a steady decline in competitor click fraud — the type of click fraud the Lams and Suen are accused of perpetrating — since its heyday 10 years ago, said O' Brien.
"The reward for that type of activity just isn't as great," he explained — especially if the clicks are not automated. More lucrative, and hence more common, is publisher click fraud: The perpetrator constructs a Web site, places ads on it and then clicks away to get a check from Google or Microsoft or whichever company is running the ad platform.
The ad networks have been vigilant in detecting both forms, O'Brien said. Advertisers victimized by click fraud "receive checks every day from these companies, who are monitoring the situation as much as they can."
There are also watchdog groups to monitor abnormal Web link usage and provide the needed vigilance to detect this activity, Raymond Van Dyke, partner with Merchant & Gould, told the E-Commerce Times.
"Microsoft and other companies that legitimately advertise or provide the media for such advertising have a vested interest in keeping the advertising game fair and thwart click fraud," he noted.
Still, the problem continues to grow as fraudsters design better software bots to hit targeted ad links, said Van Dyke.