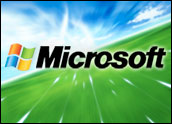 The board was re-elected, company executives were questioned about corporate strategy, a proposal to create a sustainability committee was killed. All in all, it was business as usual at Microsoft's annual shareholders' meeting Tuesday, except for some uncomfortable talk — uncomfortable from Microsoft's perspective, that is — about whether parts of the company should be spun off.
Steve Ballmer, Microsoft's chief executive, put the kibosh on that idea when it was suggested during the question-and-answer period.
Splitting the company up would create no fundamental value, he said. That is because, he explained, Microsoft's cross-platform and cross-division synergies are greater than their individual parts.
A recent ad campaign the company launched that highlights how well its various products work together suggests that the company indeed believes this is the case. It is a global campaign that focuses on how well its various gadgets inter-related.
Ballmer drove home the same point at the shareholder's meeting, pointing to how the Xbox uses Bing search engine technology as one example.
'Interesting Dilemma'
Still, the proposal does represent an interesting dilemma for Microsoft, N. Venkatraman, a business professor at Boston University, told the E-Commerce Times.
"Microsoft is at critical crossroads," he said. Its stock price has languishing for a decade despite its healthy profits from such core products as Windows and, more lately, its cloud computing offerings.
For this reason, it is understandable that shareholders would be upset and gravitate toward the so-called conventional wisdom that Microsoft has become "too big to be agile and innovative" and consequently should be broken up, Venkatraman said.
"The alternative view — one that I subscribe to — is that the Windows platform, despite all the negative sentiment around its clunky OS, could be a broad-based platform with scale that could take on strong competitors such as Google, Facebook and Apple."
Windows, said Venkatraman, has dominant scale in PCs and a strong position in Xbox, which is increasingly being connected to Windows via its natural user interface and XNA software to interlink applications. Microsoft also has a credible shot at making Windows Phone a viable third OS in phones, he added.
"Plus it has $50 billion plus in cash," he added. "So if it truly creates a broad-based Windows-centered platform and utilizes its cash holdings wisely, it can offer serious challenge to Google and Apple in the long term."
If, on the other hand, Microsoft yields to pressures to split up into its constituent parts, it will surely fail, as it will not have the scale to win in platform-based competition, he concluded. "Those who call for its breakup are looking at short-term boost to shareholders," he concluded.
The Best Part of Breaking Up
However, serious consideration should be given to the notion that Microsoft has become unwieldy, Rob Enderle, principal of the Enderle Group, told the E-Commerce Times.
"As a company matures it often needs to be restructured," he said. "It is unusual for a company to hold all its part together as Microsoft has done."
"Look at IBM — it sells off its parts and restructures routinely. It has followed this model for 100 years and performed very well because of it."
Over the last decade, Enderle said, Microsoft has exemplified a company that tried to do too many things and as a result under-resourced these attempts.
"That is why they had so many failures and that is why Apple and Google have been able to move around them," he said.
The Justice Department Was Right After All
Indeed, it's possible that if Microsoft had been split in two as the Justice Department wanted more than a decade ago, it might actually be a healthier company today, Charles King, principal of Pund-IT, told the E-Commerce Times.
"If Microsoft had been divided into consumer- and business-focused separate companies, shareholders would have been a lot happier over time," he said.
"Right now, Microsoft's consumer side is extremely fragmented and the company's approach scattershot," King said. "Microsoft will try something, abandon it, go back to it and so on. There doesn't seem to be a cohesiveness to it, and that may be because Microsoft has too many areas on which it needs to focus."