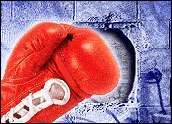 In the rush to win over office productivity software users, Microsoft's FUSE Labs has lobbed one at Google with the launch of its Docs service. CEO Mark Zuckerberg announced the beta project during his keynote at Facebook's f8 developers' conference this week, but it has received little fanfare so far.
Docs will let users create and share Microsoft Office documents on Facebook in much the same way they currently share photos or videos. Indeed, one can see several documents on the Docs site along with links to open them in a Web-based editing tool.
Users must sign up on a waiting list to have an account activated.
The Microsoft group has been working for about four months to get the service up and running, said Pat Kinsel, manager of the development team, in an interview at f8.
All Paths Lead to Office
It doesn't take much speculation to surmise that Microsoft is taking aim at Google Docs with such a service. Moving all office productivity functions to Web-based tools is a logical move as mobile devices become smaller and less storage-oriented.
The issue, of course, is garnering users, and the partnership with Facebook appears aimed to do just that.
"This attempts to 'one-up' Google docs and its social or collaboration strategy, by tapping into Facebook's massive user base," Greg Sterling, principal of Sterling Market Intelligence, told the E-Commerce Times.
Just Social, No Business
However, such a service will not impinge on Google's positioning of its own Docs tools toward business collaboration, predicted Claire Simmers, chair and professor of management and international business at St. Joseph's University.
"This is about the social productivity experience," she told the E-Commerce Times, adding that Google Docs is only one of a number of cloud computing tools aimed specifically at the corporate sector and providing the types of authentication and security that business users require.
What Docs does do is provide an instant network for document sharing, and that network can be comprised of all of the Facebook friends listed in one's profile.
Where From Here?
Anyone thinking of using Docs will need to reassess privacy settings on Facebook and also consider which Office documents should be shared in such an open forum, Simmers pointed out.
"For my trips to Disney World," she said, "I create an Excel spreadsheet, which I might want to share." However, how many of her Facebook friends would she want to see such a spreadsheet, she pondered, and how far would she want the information to go that she's away from her house on vacation?
A similar Microsoft collaboration with a professionally oriented website — LinkedIn, say — might be directed toward business users, opined Sterling.
"This isn't going to be a business or enterprise user collaboration platform, as Google Docs seeks to be, because of limited controls around groups and privacy," he noted.
What the Facebook Docs service will be, explained Sterling, is "useful as a casual, social tool and way to share and expose docs."